Dear Aunt Mary – it's me Abbie!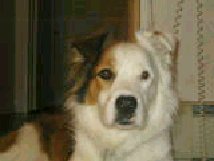 I have been very happy here in my new home. I have a nice size fenced in back yard to play in. Tommy plays with me all the time there. My favorite play thing is a sock tied with a knot in it. I usually can always find someone to play tug of war with me. I also like to play catch or fetch(?) with a ball. When I get the ball, it is more fun for me the have the person chase me to get the ball back rather than taking the ball back to them and having them throw it again. Go figure!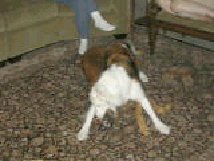 This picture is my cousin Zuri and me playing at Zuri's house in Florida over the Easter Break. My family and I drove down – I like riding in the van and am a good traveler. When I travel, I don't eat well. It seems to upset my stomach so I much prefer grass over my food or any treats. We had a wonderful time!! All week it was 85 and sunny. A little too warm for me, I really prefer cold and snow. Zuri is a pure Rhodesian Ridgeback. She is a year younger than me. She is more laid back than I am and I had to encourage her to play with me quite often.
My mom and Aunt Teri took Zuri and me for a walk one windy evening, the wind was blowing a plant of tall grass. Since I haven't seen this before, it scared me and I ran right into the back of my mom's knees and sent her flying!! I can be skittish when the wind is blowing. My mom wasn't hurt, just startled and it made Aunt Teri laugh and laugh. It was good to get back home. I missed my sister, Cassie, even though she is a cat. So I had to love her by nosing her all over and letting her give my face and ears a bath.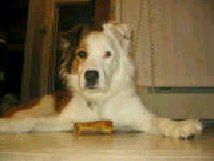 The third picture is of me guarding my Milkbone. Sometimes Cassie likes to tease me by getting to close to my treats so I have to each her a lesson and chase her away from them.
My favorite family member is Tommy. Tommy is almost 15. He loves me very much. He plays with me alot and gives me my baths. He also feeds me most of the time. The other times my mom feeds me. My mom and dad are the ones that walk me and take me to the dog park in Lincroft. I love the dog park. It is one of my favorite places to go. There are so many different dogs there. I love all other dogs and their owners. My mom and dad always say that I would go with anyone. Scott is cool. He is Tommy's older brother. He's not around much. But he does feed me and gives me baths once in awhile.
Well I've got to go now. Me and my family the Crandall's just wanted to say Happy Birthday!