By special request we looked for a yellow lab for a potential adoptor. We found Belle in rural Virginia where she'd been dumped at a local shelter.
Belle is a fantastic example of the ups and downs of the post-adoption process as you'll see in the story that follows. Good for this family for doing the work required to make the relationship work and helping to educate their dog in the process.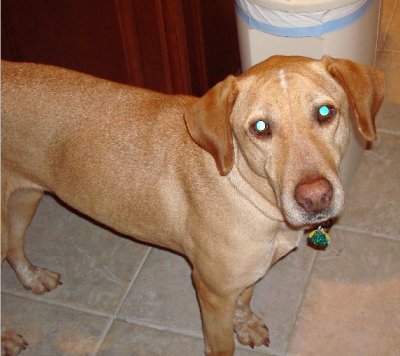 Dear Aunt Mary,

Belle has already been with us for 2 weeks now and is adjusting nicely. She is finding the snow and ice a bit challenging, but she's giving it her best! We just love her! …..now a couple of weeks later.
Dear Aunt Mary  HELP!!!

Belle is out of control. She won't stay in the yard and when we walk out here in the country and she sees another dog she lunges at the dog. Any suggestions?
Dear Aunt Mary, we've tried working with Belle but she is getting worse. Today she got into a fight with another dog out on the walking trail. I'm afraid she's not the right fit for us and we'll have to return her.
So what did we do at Aunt Mary's to SOLVE THE PROBLEM?
We invited Lucia, her husband and Belle over to our house for a training session. Uncle Paul was instrumental in quickly helping both canine and humans better understand each other and improve their communication. Within 45 minutes Uncle Paul had Belle walking smoothy on the leash. The core problem was that Belle was afraid and was acting out towards other dogs as a means of self-protection in case the other dog had any notions of causing her harm first.
The adoptors intending to return Belle now returned home WITH Belle. Having now witnessed what is "possible" in working with Belle they all returned home with renewed confidence and commitment to succeed.
First off they purchased a copy of Cesar Millan's book, "Cesar's Way" and most important they read and studied it! implementing the lessons.
In addition Aunt Mary was watching Cesar's show and coincidentally there was an episode on exact to the issue the adoptors were having with Belle. We called them up and said turn on your TV.
The follow-up response Mary, We got your phone message last night in time to see most of the episode you mentioned. Then we watched all the others! Thank you so much for the call.
Shortly after a new relationship with Belle was reported.
Dear Mary and Paul,

Belle is doing better and better. We have passed several dogs this past week and she doesn't even bare her teeth anymore. She does bark and get excited but a correction or two and we are on our way! We are enjoying her and walking her more each day. Two of my friends have said they want to try to walk our dogs together.
The last e:mail  Dear Mary and Paul,

Belle is doing beautifully! She is a wonderful companion, going wherever we are in the house or yard and she has become more and more affectionate with us. We are still taking her for her 2 long walks everyday and she is just a joy to walk with. Other dogs are rarely a problem and she walks right by them as if they were invisible.

We are so very glad we kept her!

Thanks to you and Paul again for your help.

Lucia