Aunt Mary,
Our new addition Blarney is a dream dog!
Our son told us you called to inquire about our new puppy's transition. Well, the car ride home was peaceful and uneventful, the shopping excursion to NJPets was fun-filled and the 2 days at his new home have been a delightful smooth transition- no accidents, not even overnight!!-
For now we set Blarney up to sleep in the laundry/mud-room( a heated room w/ a big window). He's got a big new bed. We've gone for several long walks and he's been wonderfully friendly w/ everyone and has learned to sit each time a car approaches, which we taught our last dog to do.
He already has incorporated enough vocabulary to recognize us and our son by name, to find his 'toys', go 'out' for a walk and to do his 'business', find the 'car' for a 'ride' and return back to the outside mud-room .door. He even understands "no" means don't touch the cat's food.
Speaking of the 2 cats, the younger one, a brazen female, ventures out of the bedroom to look at Blarney and then runs away. He tries so hard to approach the female cat to play, bringing toys as a peace offering. The male cat with the more timid personality ,has rarely been out from under the bed since Blarney's arrival- but we're hopeful it will resolve sooner than later as we already are very fond of this wonderful dog and will make this work.
I'm just guessing that he's still likely to grow some and perhaps to resemble the collie side more, with some wonderful collie-ruff. Warm regards and thanks for raising such a lovely and smart pup!
Kay & Tim McCormack.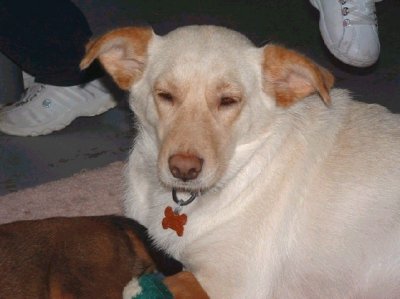 Blarney's mom Cricket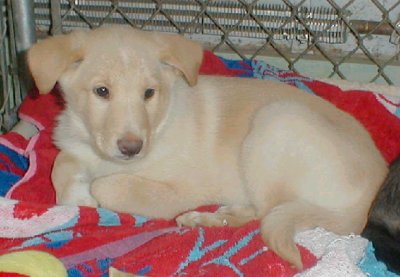 Blarney's baby picture as "Stewart Little: