Dear Aunt Mary,
I hope you and yours are doing well! I know it has been a while but I really wanted to send this letter to wish you a wonderful birthday and thank you. Thank you for helping me find my family! When we met, you knew me as Bender – My family now calls me Buddy.
I have learned so much over the past two years. I have learned to communicate with my family. I do really well with sit, down, stay and come.
My mommy is really protective of me and has taught me not to accept treats from strangers and when we go out for walks – I stop when cars are nearby. The most important thing I have learned from my family is love & my family showers me with lots of love and attention.
My mommy always buys me plenty of toys, takes me for long walks and lets me go to Ryan's baseball games. Ryan loves to wrestle and snuggle with me.
My daddy lets me go on the couch and snuggle with him to watch sports even though Mommy says I am not permitted on the couch. (our secret) I have a best friend who comes over for play-dates. His name is Midnight and he is a chocolate lab. My mommy says I am more handsome and give better kisses than Midnight.
Tomorrow I am scheduled to see the vet for my first teeth cleaning. My mommy is a little nervous. She does not like being away from me.
Once again, thank you for helping me find my family. They were lost without me! 🙂
Love,
Buddy Levy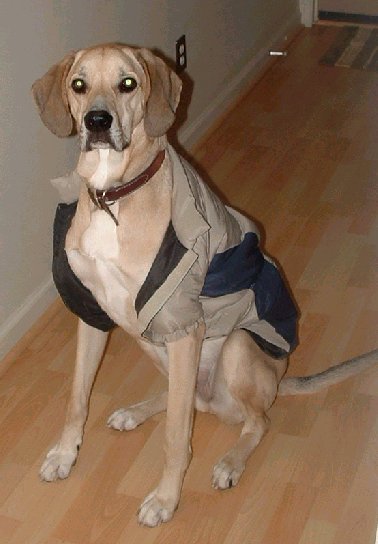 Look at me wearing a jacket my mommy
brought me for my birthday.