This little guy is called Burber (like the carpet). He was a 'last minute' save from a high volume kill shelter in Ohio. There was a tiny space left on the transport truck and Aunt Mary said – oh what's one more — send him to me. He arrived a malnourished but happy little skeleton of a pup. He had the BIGGEST WEB FEET I'd ever seen which added to his charm. He walked like he was wearing pants that were too long for his legs. When his mom to be Jennifer met him she knew he was "the one" she'd been looking for. With those web feet she knew he's be perfect for their outdoor lifestyle and boating adventures on the river.
Burber's life was not only was saved it was blessed with the love of Jennifer and Steve. Here is their story:
Burber is doing AMAZING!!!!! we couldn't be happier with him!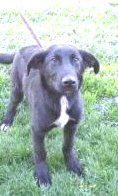 Mom's hand demonstrating the size of his feet! At 16 weeks.
Steve and I took him on his first vacation over Memorial Day weekend. We went up to the Catskills to do some fishing and to test Burber's swimming ability with those HUGE webbed paws/ He did great! Burb was a little scared but once he was in the water he was fine — he also really enjoyed just hanging out in the boat, checking out his surroundings and napping to the motion of the water. We didn't catch any fish so we didn't get a chance to see what his reaction would be — hopefully next time!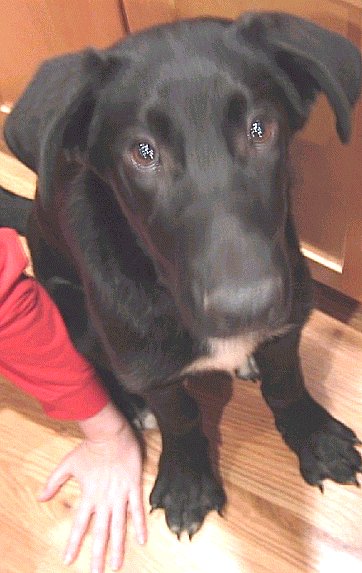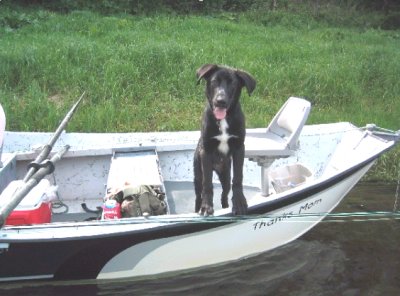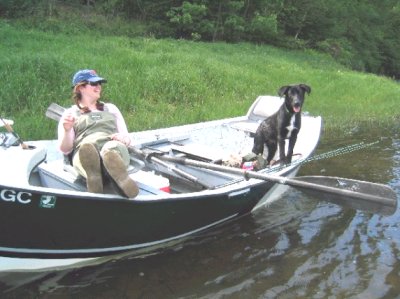 Burber with Mom!
Good Dog! Very Wet Dog!!
Burber is completely housetrained — has not had one accident inside, he does really well during the day while we are at work — he's got a dog walker who comes every day at 2pm for an hour long walk and some treats (she is in love with him too!).
Every morning (well at least 5 days a week) we go for a 3 mile run around the neighborhood which he loves — and I love having a running partner! I took him to the vet a couple weeks ago and he checked out fine — all tests were negative. He weighed in at an astounding 45 pounds and this morning Steve and I weighed him and he was already 54 — the vet says he will probably be 100 lbs! You can barely see his ribcage anymore — he's full of energy — and he just started barking on Wednesday night!!
What else can I say except thank you for finding and caring for Burber, he has really brightened our days, we love him lots! I am certain that he is beyond happy with us! Oh, and we start obedience classes on Monday!
Jennifer and Steve