Dear Aunt Mary,
We just wanted to drop you a quick note to say Thank You again for such a wonderful, sweet dog!! She is so sweet we named her Candy.
Sadly, we lost our nine year old Rottweiller/Pincher mix to cancer in January. We thought we would never find a dog even remotely as wonderful with our kids and such a big part of our family too.
When we were ready and decided to look into adopting a new family member, instead of looking at the mall like we normally would do, we were lucky enough to find Aunt Mary's Doghouse and boy are we glad we did!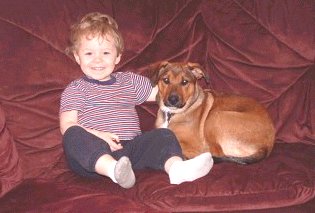 Candy has become such a big part of our family and she absolutely loves the baby – which you can see.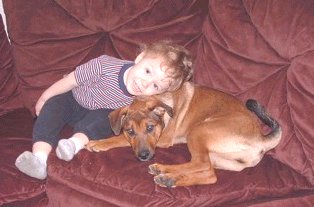 She's so gentle with him and our older kids and she loves to play in the kiddie balls right along with them! Amazingly in such a short time she has become a wonderful part of our family already. We're all very attached to her and already I don't know how we could ever manage without her!!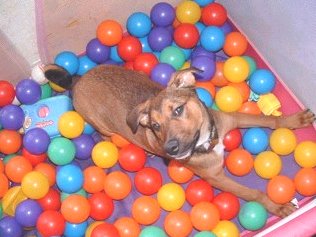 aren't I cute!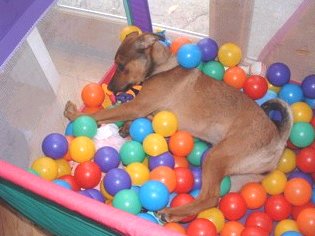 tuckered out
Thanks again for a wonderful addition to our family! The Abruzzese Family of PA
Family History: Candy was one of five puppies brought into rescue at Aunt Mary's Doghouse. Her mom Roxanne (now Heidi) is a Greater Swiss Mountain mix.
| | |
| --- | --- |
| It's me Candy! My baby picture at 4 weeks! | And this is my mommy, Roxanne (don't know dad!) |