Dear Aunt Mary,
It's been several weeks since we adopted Chester and I can't say enough about how much he is fitting in with our family (our laps and sofa too).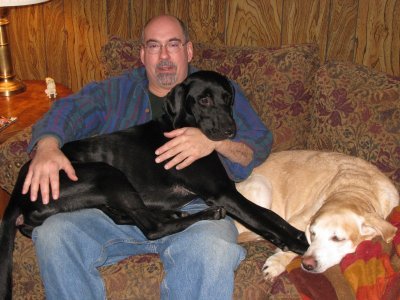 We can't thank you enough for making our house whole again, after losing our yellow lab two years ago to cancer it was tough, and we just didn't have it in our hearts to bring in a new member to our family. We needed to grieve and heal. We were also in the process of purchasing our first home, and didn't feel it would be right to bring in a new member at that time. After settling into our new home, we decided it was time to bring in a new member, and to be honest with you I think the other dogs were ready too.
We had adopted Chelsea, now Daisy from you several years ago and it was such a memorable experience that I said, lets check out AuntMarysDoghouse.com again and see what she has up for adoption.
On the first shot I couldn't believe it! Staring at me was Chester with that take me home face.
When I looked into his eyes in the photo I immediately knew Chester was THE DOG that was right for us.
I emailed you right away and said we were interested in taking a look at Chester, and you said sure come and take a look at him over the weekend and see what you think, I could not wait.
When we pulled up to your facility and saw how beautiful he was I had butterflies in my stomach praying that Chester would like us and we would like him. When we went out into the backyard with all the other dogs and he came running up to us, I said he definitely is the one, what a great dog. After spending some time getting to know him, we made the final decision to adopt him.
He was great on the ride home, my husband sat in the back seat with him and he just fell asleep. When we got home and introduced him to the other dogs, he was wonderful. Everyone loved him, and they are all brothers and sister now and get along tremendously. Well again we can't thank you enough for bring such a wonderful animal into our home and making it whole again.
Best Regards, The Kostenbader Family: Bowser, Dusty, Daisy & of course Cester the hound.