This posting is for Cooper. He was one of three pups we rescued from a Virginia kill shelter along with their mom Nina. Here is the happy little family. Hard to believe Nina is the mom!
Dear Aunt Mary,
We wanted to write to say Happy Holidays! And to let you know Cooper is doing very well. As you can see in the photo, his grandparents spoiled him at Christmas. His basket of toys is overflowing and he has enough treats to last him till next Christmas!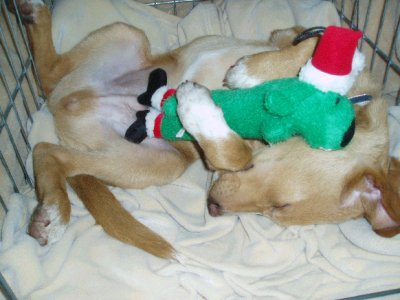 It's quite impressive how smart he is (I'll bet all parents say this!) Clearly we have "PPP Syndrome (proud puppy parent syndrome)." He now tells us when he has to go out. Thanks for your suggestion to attach a bell to the door leading to the yard. We bought "Poochie Bells" for the front door and anytime he has to go, he runs to the door and rings the bells. Everyone is amazed that he is "housebroken" at 4 months and is ringing a bell to go out too. He not only does this at home, but at both of his grandparents homes too! He has also learned to sit, lay, and roll over! He learned these tricks in about a week! How clever!
He loves meeting people and getting lots of attention! He also loves to give kisses and have his teeth brushed!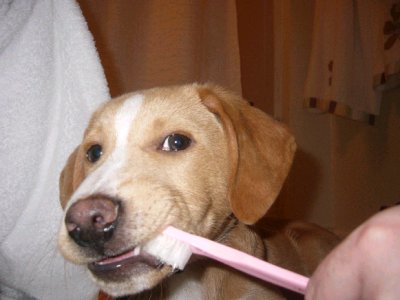 Every time we come home from work or call him over to us, he runs to lick our faces with so much energy! He gets along very well with his doggie Aunts Maggie and Mindy.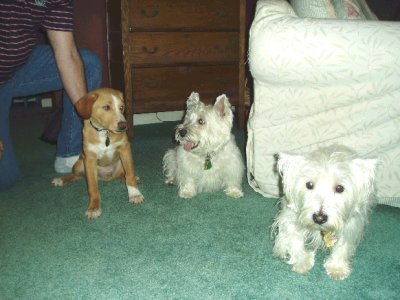 This Christmas weekend he got so much play time with all three that he slept almost all day today!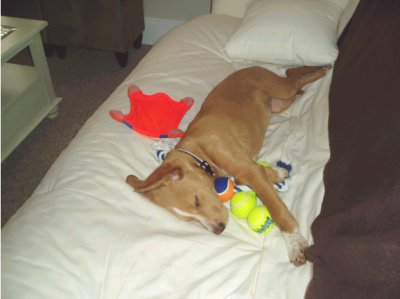 We think he has doubled in size since we picked him up. The little piggy now weighs 21 lbs! The vet thinks that he is going to end up somewhere around 45- 50 lbs full grown. Obviously he already thinks he is a 'big' dog. Look at Uncle Stryder laughing at him!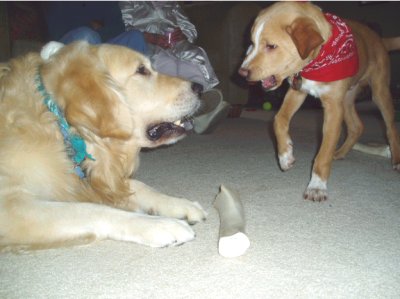 Well we hope you enjoy the pictures and have a Happy New Year!
April '07 update: Aunt Mary, Cooper is doing very well! You can see he isn't a little puppy anymore — are you sure his mom Nina was only 20 pounds! If I didn't see her with my own eyes I'd never believe it.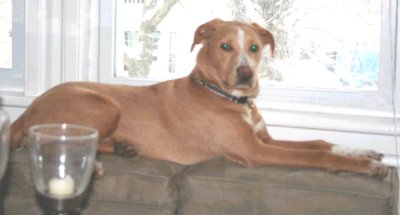 Cooper wants me to tell you that he says Hi and that he is learning new things everyday!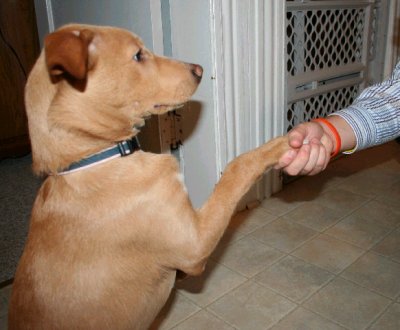 We are working on the leash training and obedience (come/stay) with him all the time. He LOVES the beach!
Every morning we get up around 6am and go for a walk, eat and then play before mommy and daddy have to go to work. He also doesn't mind posing with funny hats!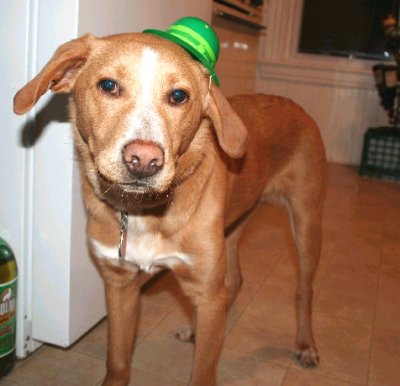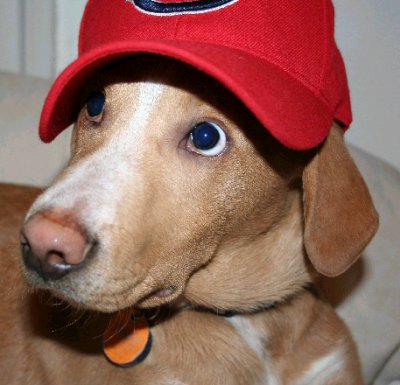 He is such a loveable puppy and is always happy! We just have the best time with him! Thank you again
Ryan, Kristina and Cooper
Dear Aunt Mary, It's me COOPER, Oreo and Chili's brother! I just had my second birthday and the past 2 years have been the best a dog could ask for!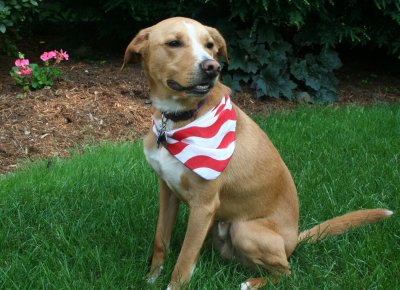 Mommy and Daddy (and my grandparents) spoil me with lots of toys, walks and treats. When the weather is good Mommy and I go for a run or walk and Daddy and I like to wrestle and play with toys. My favorite activity is to chase the baseball in the back yard. Just the sight of a bat and ball get me excited! That makes my Daddy happy because he LOVES baseball. They tell me I am quite a bed hog, but I don't care and they don't seem too mind too much either because they let me sleep with them every night! They play with me so much I have to take naps and I like that so I can dream about bones.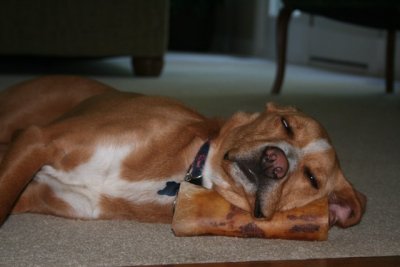 They get a kick out of my love for wet towels and hair. I just love to play in my mommy's hair when she is blowing it dry. Sometimes she will shoot me with the hairdryer and I roll all around in the floor in the clean towel from her hair. I love it! I also LOVE to lay in the clean laundry. It just smells soo good!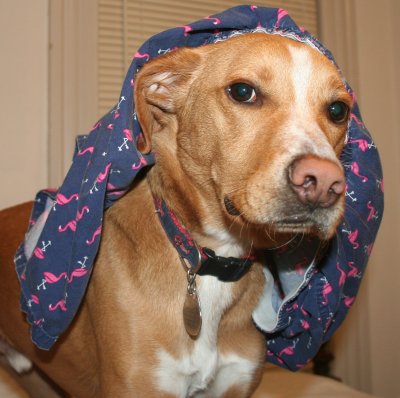 As if life couldn't get any better, my Mommy and Daddy just recently brought home new little sister! A human sister that is! Her name is Annabelle.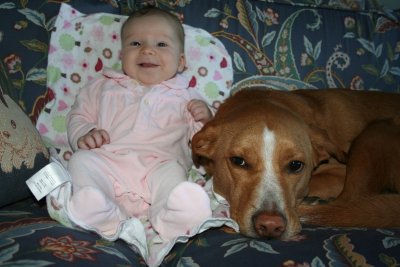 At first I wasn't sure what to think of this new creature invading my time with Mommy and Daddy but now I think it's pretty cool. I knew as soon as they pulled in the driveway that something was different. I couldn't wait to see what it was!!!! Even though I didn't really know what to do with her I knew that I needed to protect her from anyone I didn't trust FOREVER. See ya later Coop!