Cosmo and Abbey are a coupled pair that found themselves homeless when their people up and moved out of the apartment and left these two sweet souls behind alone, flea invested, sick and starving. When the landlord discovered them, animal control came in and took them to the local pound where their days were numbered and their chances of adoption in their pitiful condition were almost zero let alone the miracle of staying together as an adopted pair.
Aunt Mary's team thought we could help so we invited them from Virginia to NJ. Their posting was no sooner up when Kris and Frank spotted the post. Abbey (black lab on left) was the dog they were responding to but when Kris and Frank met Cosmo they said oh why not take the pair – who could separate them! So off they went to their new life. Here is the continuation of the happy 'tail' new beginning: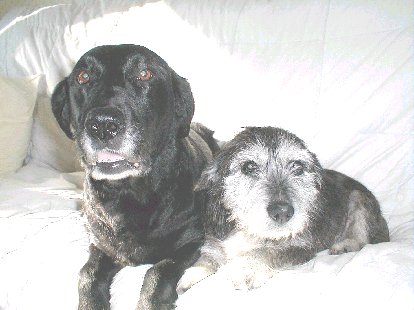 Abbey & Cosmo after rescue and first day in new home.
Hi Aunt Mary, I just thought we'd send you some pictures of the kids. Cosmo and Abbey are doing very well. They have a regular fan club at both Brookdale Park and Mills Reservation (in Montclair). The two of them are just the silliest pair you've ever seen. I've seen people in cars slow down to look at them and smile.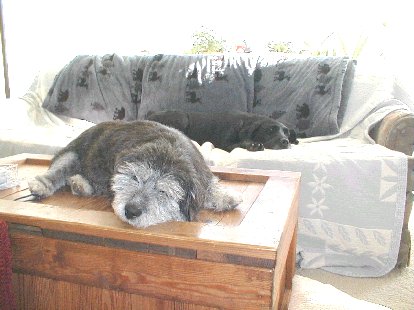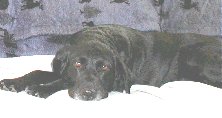 Cosmo (front) is bold, (can't you tell from the photo!) happy go lucky and VERY nosy. Abbey is a bit of a chicken and really needs the 'MoMo'. He grooms her and generally makes her feel safe. Cosmos skin is doing well. He gets medicated baths and we've got him on Omega3 fish oil tablets. He's got a nice coat (both of them do now we refer to Abbey as our velvet girl) and some of his bald patches have actually grown in some hair.
Abbey (and Cosmo) really like kids too and are always happy to stop and be petted and give kisses. Abbey will not kiss adults, only children. She's cheap with her love!
Cosmo's really quite a character and people are fascinated with him. People at the park all have their own theories as to what he is. Other comments have been "He's best in show" and "you couldn't have put a better dog together if you tried".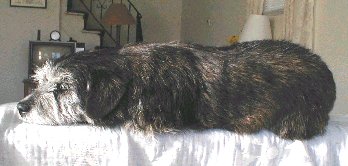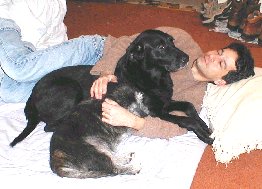 Anyway, we're so happy we have them. Thanks again for our happy family.
Kris and Frank