Hi Aunt Mary —
I would've written sooner but the little buggers ate the power adapter to my dsl router by day 2!! Dierks and Dakota are settling nicely. I took the week off and was able to teach them how to walk on a leash, how to sit, give paw…..They know their names and are close to house trained already! They were totally crate trained from day 1, which was amazing to me.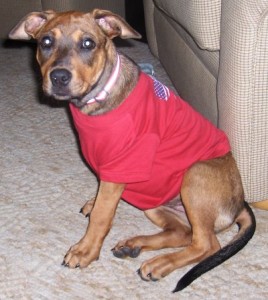 Dakota is definitely a devil in disguise (hence the red shirt) — beats Dierks up often, takes food out of his mouth, pounces on him when he has a toy and rips it out of his mouth but we've been working on that and she's getting better.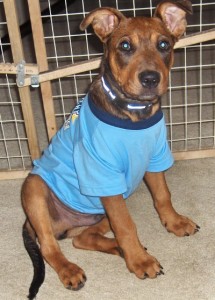 Dierks is a total momma's boy, follows me, sits at my side as soon as I stop walking and always look to me for reassurance (especially when Dakota is getting yelled at!). Oh and they are already sleeping through the night which is wonderful! Dakota is definitely more advanced than Dierks. She does everything first — she even walked up and down the stairs first.
My dad's dogs, Beamer and Major, are starting to adjust as well. They both love to jump on Beamer and lick him to death but they are so forceful when the do it that he normally can't take it after a few short minutes and runs into another room!
I'm so happy I took both dogs. No matter how much they fight with each other, they are so close that they cry if they are not in the same room and when they are napping in the tv room during the day, one is always sleeping on top of the other! I've never had 2 puppies at once, but I'm having the time of my life with them. Thank you again for letting me adopt them.
STACIA
A couple months later:
Last week was a big week! The kids weighed in at 34 pounds (well Dakota was 1/2lb heavier!)…and we got their DNA results!!! They are primarily Australian Cattle Dog like their brother Kaiden. They know how to lay and stay now (well sometimes). Dierks just loves to sleep next to Beamer now, and they all play and dig out in the yard like there's no tomorrow! Dakota's ears sometimes stick straight up – funniest thing I've ever seen.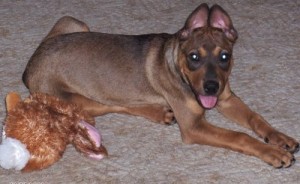 I'm going to buy them saddle bags so I can put them to work on the weekends to help with their extreme energy and spunk. They are good at cutting their nails, and I play with them every night and clean their ears and teeth 🙂