HAPPY BIRTHDAY Aunt Mary!
Hi Aunt Mary,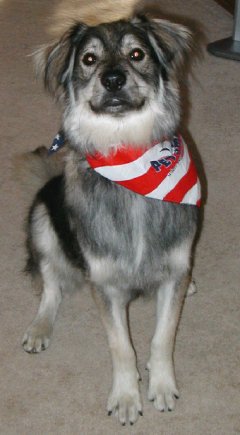 Emmit Kelly here! Mostly known as "Emme" now. The only time I hear my full name is when I'm in BIG trouble! I'm happy to report that is a very, very rare occurrance.
I just want to thank you for taking me in when I was down on my luck and helping me find my new mom and dad. They're really nice to me and are here with me almost all of the time. Dad takes me for lots of walks and then I come in and lay under mom's desk while she works. My other favorite place to hang out is in the bay window and watch what is happening in the neighborhood. Mom calls me her sphinx because of the way I sit there.
Once in a while when they have to go somewhere that I can't go (who wants to go to a wedding anyway!), they bring me over to Uncle John's house. I'm always well behaved when visiting and have alot of fun there. I even stayed overnight once with no problems at all.
You'll be happy to know that I do much better in the car now also. I like looking out the window instead of sleeping all of the time. My two favorite places to visit are the dog park where I get to run around with all of the other dogs, and grandma's house because my favorite cousin always comes to visit me when I'm there. I just love following her around and she always gives me extra treats!
I'm still trying to figure out how to get along with the cat who also lives here. I just can't resist chasing him, so he usually hides under the bed when I'm near by. Sometimes I let him sit in mom's lap as long as mom is also petting me while she's petting him.
Mom and Dad also say to say thank you for letting me come live here. They like having me to spoil.
We all wish you a very Happy Birthday!
Love,
Emme, Dianne and Aldo