This spring Aunt Mary took a vacation adventure aboard the rescue transport to/from Virginia. On this trip we rescued Ethel the Coon Hound and brought her back to NJ to find a better life than the one she'd come from.
This is Ethel thankful to have been sprung from the shelter.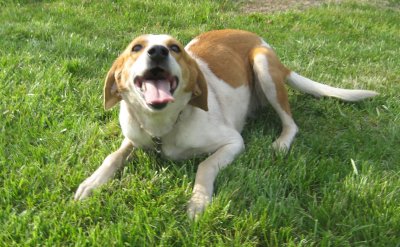 Shortly after her arrival Fran Lieberman came to visit the dogs at Aunt Mary's Doghouse and immediately struck up a friendship with Ethel. Fran's fur-child had recently passed away and she had a big empty space in her heart and home to fill. Ethel needed a friend too and a cozy place to call home. It was a great match for both.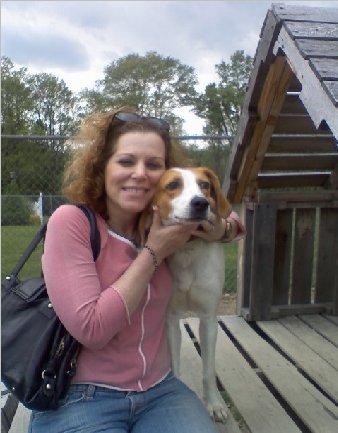 Dear Aunt Mary,

Ethel is doing beautifully. I adore her! She is so sweet and laid back in the house and she truly enjoys our long daily walks. She is absolutely perfect for me! She is such a sweetheart and has captured the hearts of all my friends and family too. She is definitely a keeper.

As you remember my biggest concern was how she would get along with my two cats. When we arrived home, she greeted Mozart with a sniff (they became friends immediately). My other cat, Pumpkin, was a bit tentative, but now he is fine with her too. Ethel loves to run upstairs and lounge around. She's got a good appetite, has put on some much needed weight and her coat now glistens. As you can see she is very comfortable, pampered and happy.

We enrolled in and already completed schooling. Ethel graduated with flying colors. She's a very smart girl and I'm so proud of her.

Thanks for giving me the privilege of adopting her. We are extremely happy!

Fran