Little Miss Hailey Diane is a southern born belle that was picked up as a stray by Animal Control. She led them on a merry chase and didn't surrender herself so easily which isn't unusual for frightened starving dogs. Alone in the world at such a young age life had already taught her to be very leery of humans. Hailey became skilled at knowing how to stay just out of reach of those lunging human limbs trying to catch her.
After much effort Animal Control caught Hailey and brought her into the shelter. Sadly she was a walking skeleton of skin and bone. Haley was immediately examined by the vet as suspected she had Mange. Here is a brief education on Sarcoptic Mange:
Sarcoptic mange is the name for the skin disease caused by infection with the Sarcoptes scabei mite. They are microscopic and cannot be seen with the naked eye. Adult Sarcoptes scabei mites live 3-4 weeks in the host's skin. After mating, the female burrows into the skin depositing 3-4 eggs in the tunnel behind her. Her presence generates an nflammatory response in the skin similar to an allergic response. (WOW does this itch!)
Haley was isolated for weeks from the other dogs and started on a treatment plan of IVERMECTIN injections, the most effective treatment. When she was well on the way to recovery she was released to Aunt Mary for the next phase of her treatment – rest, relaxation, fresh air, playtime and a new diet fit for a queen.
Haley made the journey on a transport truck. When she arrived Aunt Mary thought she was a little bird that was molting. Her coat looked exactly like a new born baby bird growing it feathers on bare skin. She was a patterned checkerboard of hair and bald skin.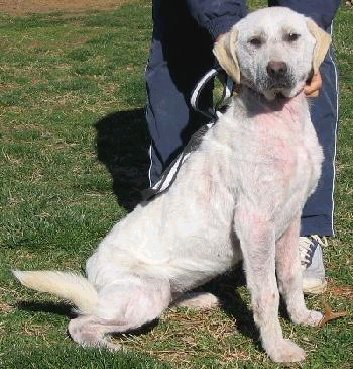 Hailey Diane weeks into her recovery
We got bombarded with calls to adopt Hailey – wonderful homes and generous offers. But, we only had one Hailey and we selected an adult couple that work from home and had recently 'lost' their senior fur-child and needed a new love to complete their lives. At this stage Hailey needed focused attention to keep her on track with recovery and its obvious from the photos that she is now thriving!!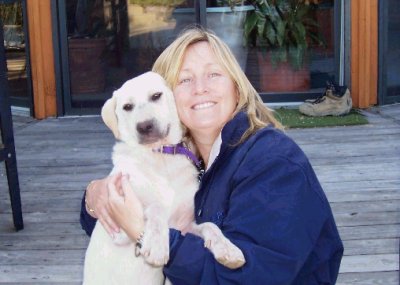 Haley with her new mom Ruth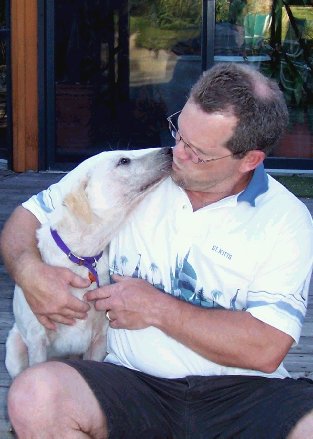 Hailey kissing up to her dad Vince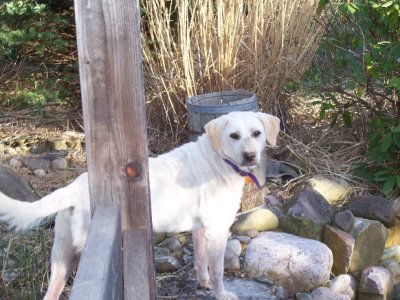 Hailey out exploring in the comfort
and safety of her new environment
Update Dec. 2006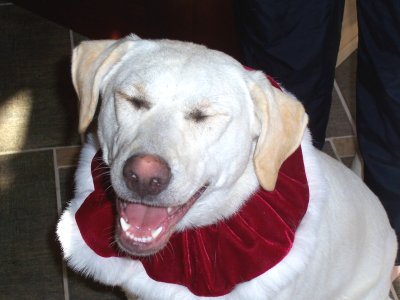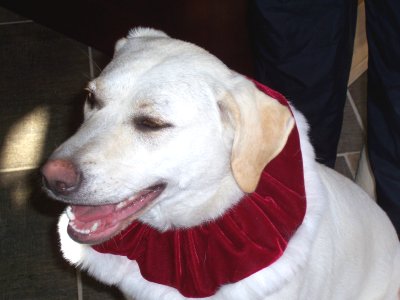 Just wanted to send you an update on Hailey Diane. She is doing great, we had an open house on Christmas and she was in her glory meeting all the new people. She was great with the Kids as well as the Adults and even my family memebers German Sheppard who came to keep her company. Her are pictures of the little girl in her Christmas finest. Hope all is well with you and your short time companions. Thanks again for Hailey she is a great dog.
Ruth and Vince Calvanese