Our happy adoption story begins with a short stop to buy a flea collar at the Agway store in Blairstown. In the backseat of our car was our 15 year old dog, Murphy. A few minutes later a red station wagon parked next to us with several dogs aboard. They quickly discovered Murphy and began barking their hellos. On the back window of the wagon was the web address www.auntmarysdoghouse.com. Being a net-junkie Robert had to take a look. After all it never hurts to look, especially when you aren't looking to bring another dog into the family. There he found a Plott Hound pup up for adoption. This was Glazer. He had a face that melted the heart (and the brain a little). Love at first sight.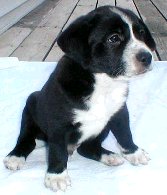 (Peep's pup Glazer – 1 of 3 born Good Friday 05)
The next day, after talking it over with his wife – Wendy, Robert called Aunt Mary to ask about Glazer. He found out that Glazer was being held for someone else but his brother Harrison was available.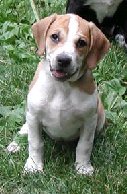 Harrison making his pitch
When we got up to see the two of them, Glazer's situation had changed and he was available. During the visit however, Glazer remained aloof and disinterested in us while Harrison pulled out all the stops with his hard-sell routine. With tail a'waggin' and tongue flailing his plan was nothing short of total captivation.
To avoid impulse decisions, Aunt Mary's policy is to go home and "sleep on it." Doing this we talked it over. We still had a crush on Glazer, but Harrison seemed so much more ready to come home with us. A couple days passed and Mary called to see if we had made a decision. Yes, we wanted to pick up Harrison as soon as possible. It was Memorial Day weekend and Aunt Mary was going to be away so she let us pick up Harrison that Saturday if we would do her a favor and puppy sit Glazer that weekend.
By the end of Memorial Day weekend we were supposed to return Glazer to Aunt Mary, but what we hadn't planned on was our falling in love with both puppies. Both Harrison and Glazer had worked their puppy magic and had us hopelessly in love with them both. Even Murphy was okay with the idea of having these two additions to our pack. Fortunately, Aunt Mary was happy to let us adopt both of these guys. And we haven't looked back. Every day with them is better than the last.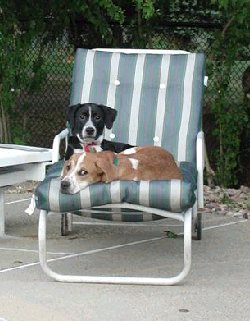 Harrison & Glazer Labor Day weekend.
Kick'n back and loving it.