2005 was a tough year for our family – we lost Tyler, our 13-year-old Shepard/Lab in August, and then lost Jake, our almost 4-year-old Rhodesian Ridgeback/Coonhound, in December to lymphoma. This left Brandon, our 6-year-old yellow Lab, an only dog for the first time in his life.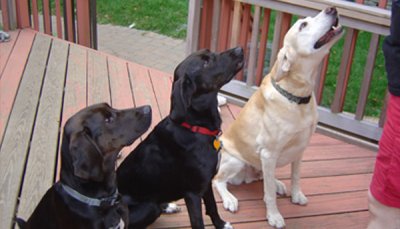 Having lost both of his good buddies, Brandon was sad and lonely. He moped around the house barely eating and completely depressed. We spoke with our vet, who suggested that the best solution for Brandon would be to find him a new companion. So we went back to Petfinder.com, where we have always found wonderful dogs in need of a good home.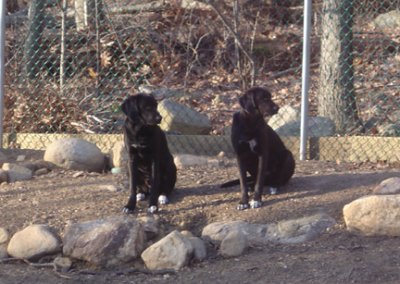 We found several dogs in different rescues that were potential candidates. We trekked here and there, meeting different dogs, evaluating their temperaments and personalities and having Brandon interact with them. There were a couple of possibilities, but no one who seemed to be the "right fit" for Brandon and our family.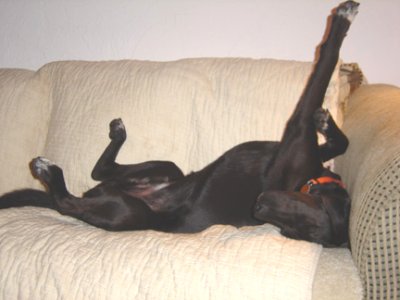 We had met Aunt Mary a few years earlier when looking for a companion for Tyler. We loved her energy and the way she fostered her dogs. So back we went to check out Aunt Mary's Doghouse once again. We found these two clowns – Hershel and Kruzer – a pair of ten-month-old littermates, rescued from a kill facility in Virginia at the age of five months. Aunt Mary still had them in her foster care because they were very bonded and she refused to split them up. She just knew it would not be the right thing to do for these two pups. We questioned whether we wanted to bring a pair of such youngsters into our family, but decided to go to Blairstown to meet the boys and see if anything clicked.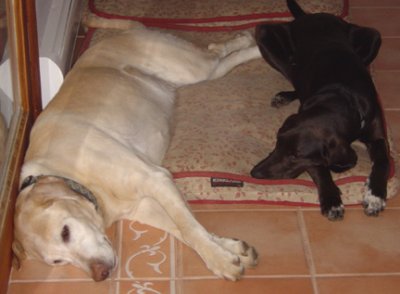 Our first trip to meet Hershel and Kruzer was without Brandon, at Aunt Mary's recommendation. It allowed us to meet the boys and see whether or not there was any chemistry between us. We were able to focus all of our attention on Hershel and Kruzer, rather than on Brandon, which would have been our natural tendency.
We knew after the first 15 minutes that their energy, temperaments and dispositions would be just great for our family, our household and Brandon. A week later, we brought Brandon to meet the pups. In just a few minutes, it was clear the three dogs were getting along wonderfully. They ran, they played, they shared a drink of water from a small puddle – all three heads within inches of each other, showing just how comfortable they all were.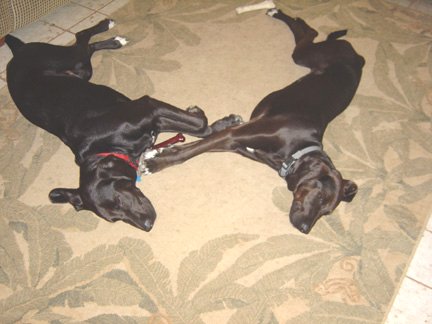 A week later, the pups moved in. Settling in took a little while, as it always does, with everyone having to get used to everyone else. But the three boys adjusted – first Brandon and Hershel finding their comfort level with one another, then Brandon and Kruzer finding their good space together. Now they all run and play hard, and sleep soundly! And when I woke up the other night to find Brandon asleep on his dog bed all stretched out and Kruzer curled up in a ball leaning against Brandon's belly, I knew all was right in our world.
Ellen Castell and Janine Ringier
Landing, NJ