Jersey's story begins with a man named Bernt who knew Jersey as "a beautiful puppy" living in his friends out of state neighborhood. Bernt was shocked two year later when he visited to discover this pathetic soul you see chained here.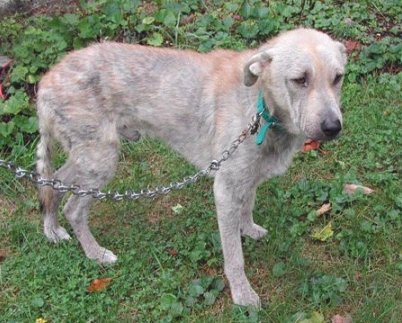 That Jersey was slowing dieing of starvation at the end of a short chain is obvious. He weighed only 35 pounds and had lost his hair and was 'giving up' on life.
Bernt and his friend demanded to take Jersey and so it was that Jersey turned up in New Jersey. Kudos to Brent for doing the Right Thing for animals!
The next step is somewhat star-crossed for Jersey. Brent couldn't keep Jersey but that didn't prevent him for finding a solution. Somehow Brent came in contact with Auntmarysdoghouse.com asking for help. Simultaneously Aunt Mary had an excellent mother (Chris) and daughter (Clara) team that had attempted to adopt a dog that wasn't the right fit and they we're patiently waiting for another opportunity with a better match.
Clara was stalking Petfinder.com and Aunt Mary's website on a daily basis. She saw Jersey's posting and shouted out, "Mom – can we foster THIS dog??!!" Chris took a look at the photo and gulped stating, "it was the sorriest, ugliest looking dog I'd ever seen". To which Clara responded, "there are no ugly dogs, Mom."
(Wisdom from the mouth of babes).
Chris and Clara admit that at first it was hard to even touch Jersey – "his skin rippled in furless folds and wrinkles". They (vet included) didn't have a clue as to Jersey's breed. For the first month Chris made him two fresh chickens every day with loads of rice and carrots chased with eight medications. On his next visit to the vet Chris beamed when the receptionist asked, "Weren't you here a few weeks ago with a different dog?"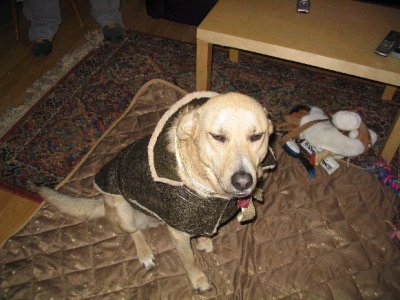 Today Jersey is full of love and play. He is a beautiful yellow lab/shepherd mix that proudly weighs in at 75 pounds. His tail went from knobby twig to full Shepherd plume. Chris and Clara claim, "He's the best snuggle dog with soft velvety ears and golden fluffy fur – no one could ask for a more perfect dog to become a member of the family – we're looking forward to the years ahead we will share together.

This is what Mom's chicken soup and the love of an eight year old child can do. Kudos to the home team of Chris and Clara and to the start of Jersey's new story.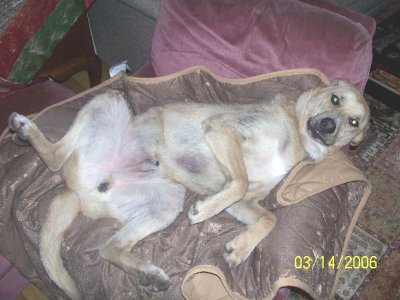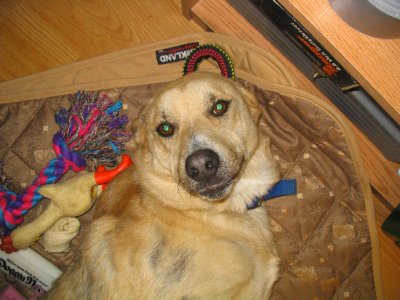 Jersey is truly a RESCUE story. I want you to take a very good look at this photo because what you see is a diamond in the rough. I'll bet if you used your wildest imagination you'd never see or guess that beneath this chained despair and neglect is a yellow lab.