Hello Aunt Mary and Uncle Paul,

It has been awhile and I wanted to send you a little update on my active life. I have been so busy with school. I have great news as you will see from the picture. I just completed my 9 wks of obedience training in the pre-novice class. I received my diploma and I was picked for the big trophy as most improved dog. Cindy and I walked away so proud. I really have come a long way. I am a smartypants. I will be starting the next class coming this april 7th. Life is good. I can't wait till summer and I finally get to hit the beach at the beach house.
Aunt Mary, Jiggy Blue is such a smart, sweet little dog we just love her to death. Thank you once again for bringing her into our lives. The people at the training school cannot get over how fast she learns. I'll keep you posted on upcoming events.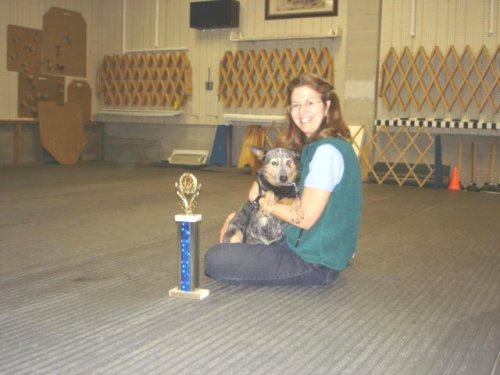 Much love from Jiggy, Cindy and Ken
Update October 2006
Wanted to send you afew photos into the world of Jiggy. She has come along way and is such a joy in our lives.