Julie (Juniper) Sophie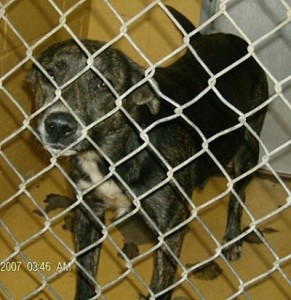 In the Spring of '08 David Glogower and his two children came to visit the Doghouse. Two reasons brought them to our door. Reason one was that their dog was advanced in years and they wanted to find a friend to comfort their dog and reason two to find a dog to comfort them in the inevitable loss of their senior family member.
David was drawn to meet the siblings Rachael and Ezra. David's got a very sentimental compassionate heart and he was very open to adopting both dogs and keeping the pair together. I thought the gesture noble but had serious reservations about that particular pair of energetic labs being the right match for a single working father but sometimes you just have to give things a chance and hope for the best.
The match simply wasn't and Rachel and Ezra were back within a week. (see Success Stories to find out what their destiny was). The continued good news is that this turned out to be a great opportunity for another dog we had called Juniper.
Several months earlier in December 07 Juniper was a mama to be with no hope of getting out alive inside a Georgia kill shelter. When we found out about her we said we'd love to have her and her anticipated family join us.
Juniper was scheduled for transport and the day of departure she gave birth inside the shelter to a litter of 5. She missed the transport and had to be fostered for a week in a horse stable (what a great Christmas tale!) Things got worse for her before they got better. A severe winter storm hit the northeast and the Georgia transport truck took a very long time to make the multi-stop journey. After several stressful cold days on the road the horse trailer finally pulled up at 5 a.m. and the family began their new and better lives. The pups were to be named Snickers, Frye, Chef, Henry and Eugenie- the only girl. All were adopted into exceptional homes.
Getting back to David, he was feeling very much a failure about Ezra and Rachel being returned to us. We saw only opportunity and turned his thoughts towards Juniper. She's a calm, gentle, low key dog that is happy just to lounge on the sofa in a sunny window. Soon David started to see Juniper through our eyes and she had his complete attention. Now finished with motherhood (AND SPAYED) Juniper was ready for a new independent life. A new life deserves a new name! David named her JULIE.
Simultaneously we had another dog in rescue being fostered by our Senior Dog advocate Dan who'd recently taken in our sweet lab Sophie. Not soon after Juniper joined David's family his before mentioned senior dog quietly passed away. David called wanting to find a companion for Julie and the match was made. David writes often and with his last communication he sent photos and an update:
Hi Mary/Paul/Dan – just thought I'd send a couple of recent pictures.

The girls are doing great. I spent three weeks with my kids in Israel this summer; the dogs stayed with their Beagle & Shetland cousins, but they were delighted when we returned home! They enjoy gathering around the piano when we're practicing, and give us a warm ovation when we're done. It's very funny to watch!