Dear Aunt Mary,
Hi. It's Koda, one of Ellie's sweet puppies. Thank you for adopting me to my parents. I love life and my big brother. I am growing in leaps and bounds and I am so healthy and everyone tells me how pretty I am. Even thought I am a boy!!! When I first came home I was just the little guy getting thrown around by my brother of 30 lbs. Now I can just bump him and send him flying. He is my best friend. I love my parents and their kids. I could not of asked for a better life. I am moving to an even bigger house and yard and cannot wait to run run run.
This was my first few days home.
My mom is working with me intensely to be a therapeutic dog. I guess I am so tame and cute that I can bring joy to others. People say I am too big to be a lap dog but I still think I am 15 pounds even thought I am more like 60. It's was so hot this past summer I tried swimming. It's not for me, I just stay on the float and watch. Maybe next year, I was just a little one when I tired. This is in July, around 4 months old. I love playing with Buddy. He is my best friend.
I love to just laze around.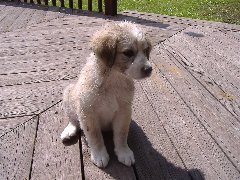 Now I am 3 times the size of my pal and he runs from me. I still am a big mush, All I want is to kiss and have my belly rubbed.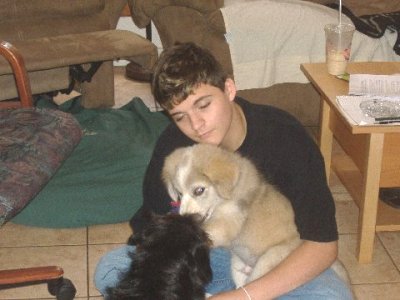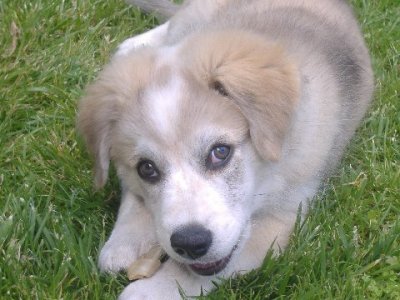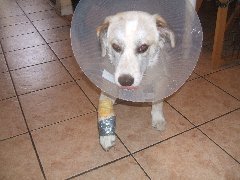 Emergency room visit. I dug up glass and needed stitches. I know I look silly. This is why I hate when people litter!!!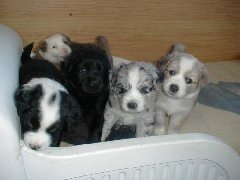 So I just wanted to thank you for letting me have a good chance at life. I love my parents and sisters and brothers. I am now 7 months old and a very happy and BIG pup. Thank you Aunt Mary and I hope to see you again one day. This is my current look. I am still growing and still love life. I've grown so much and I look like my brother Possum so much!!!