Hi Aunt Mary 🙂 It's Luna (Nina) and Latte (Noel) checking in and also checking out the neighborhood from our big picture window. Well mostly Luna because she is the Shepherd that likes to keep an eye on things and me, Latte being a lab, prefers the comfort of the big cozy sofa. As you can see we have full run of the house because we're such good girls we're told.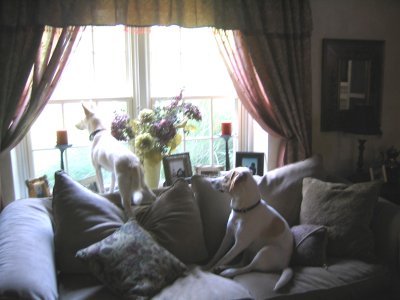 Anyway, it's Thanksgiving time, and perfectly natural that we would think about you! Of all the things to be thankful for, topping the list is you!
We thank you so much for keeping us both safe until we could meet our new mom & dad. You do such wonderful work taking care of all our canine companions!
We can hardly believe it's been almost a year since we all drove away from your place and arrived in this beautiful loving home that we have the run of. When we left the Doghouse, both humans and dogs, none of us were quite sure what we were getting ourselves into. though we knew there was a special connection right from the start!
Mom & Dad say that we're the most beautiful and lovable girls on the planet (most of the time). They thought you'd like to know that we don't run away like we tried to in the beginning, cuz we know how good we have it here. We make them laugh all the time with the way we play together ~ like only dogs can. They love our quirks and silly personalities. We've added a few pictures of us to show you how much we love each other… and how we basically rule the house!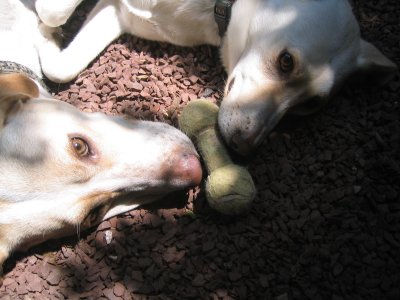 Hope you have joyful holidays!!!
xoxo, Luna (Nina) and Latte (Noel) p.s. mom said we kept our former names as our middle name, just as a reminder that we came from Hope, NJ 😉