This is Brandy (left) a Plott Hound mix from South Carolina. Brandy is the mom of Mollie (now Madison on right) adopted from Auntmarysdoghouse.com.
| | |
| --- | --- |
| Brandy | Madison |
Dear Aunt Mary: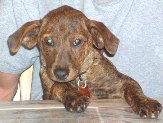 Mollie, now Madison is doing great! John and I are very proud of her – she is so smart (for a pup 8-10 weeks old). She answered to her name the first night and already lets us know if she has to go out.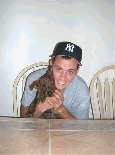 She hangs out with John's mom in the morning while she drinks her coffee & gets ready for work, which his mom loves. John takes care of her the rest of the day. They bonded so quickly! They play all day, and she sleeps with him every night.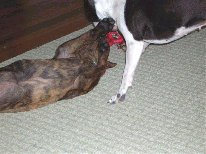 Madison loves to play with the other family pets Nikki & Lola (my dog), and even Oliver, John's cat. I think she likes to be around other animals as much as she can, since she was so used to that when she was with you. Madison & Nikki instantly got along. They like to play together & wrestle, it is so cute to watch.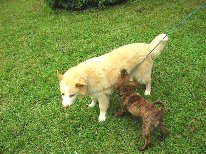 My dog, Lola is a little older and she doesn't play like a puppy, but Madison really likes her! They will run around together, but no wrestling.
John's family is so happy to have her and Madison is very happy to be with them! Thank you so much for your help! We will send more pics as we take them, and keep you updated. Thanks again!!
John and Jaclyn