Hello Mary,
I was just reading your success stories (Sept08) and I thought I would write a little about my 'story' and my lovely NEW pup Melody.
It'd been almost 1 yr since I had to lay my best friend and companion to rest — his name was "Roswell". Roswell was a cocker spaniel adopted 10 years ago from a vet hospital I used to work for. He was my constant companion and putting him to sleep broke my heart — even writing this brings me to tears.
I never thought I could ever love another dog that much and I was resigned to not having anymore dogs because they just wouldn't be "Roswell".
Then one fateful day I met you at the fundraiser in front of the A&P and shortly after began house sitting for all of your wonderful dogs which started me thinking…….maybe I could love another dog again.
Abruptly one day you said you had a very special little somebody, a Jack Russell & King Charles Spaniel mix-breed named "Melody" that I'd be pet sitting that very week and was a real heart stealer — so 'beware'! (also beware that Aunt Mary has this clever way of phrasing things and raising curiosity). I couldn't wait the four days before pet sitting to meet this dog. Minutes later I was in the car with my mom and on my way.
We drove up and there was Aunt Mary with this adorable little dog snuggled in her arms waiting outside to greet us.
Well let me tell you as soon as I put my eyes on Melody I new she was mine! Melody literally "Had Me at Hello".
Since then Melody has become my constant companion and I love her to pieces. No she is not Roswell and never will be but it is a new and different kind of love I share with her.
Everyday she comes to work with me at the best place for dogs in the world The Seeing Eye where she stays in "puppy day care".
She has made so many great friends like Kiki the boxer, Java the border collie, Sugar the pug, Belinda (my parents rejected seeing eye shepherd) and Sparky (my parents ancient toy fox terrier) as well as tons of people friends. Everyone who meets her loves her even my two cats Artemis and Ouija.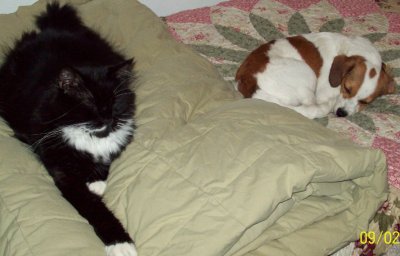 I can't thank you enough for bringing her into my life I truly believe that is why I met you at the A&P that day it was destiny for Melody and I to be together.
Thank you with all my heart!!
Heather