Nellie, formerly known as Jackie-Jackalena arrived at the Doghouse in deplorable condition. For at least 8 years of her life she lived in misery as a puppy producing machine. Her small size and white terrier coat made her a prize target for puppymill abuse. Why – because little white puppy dogs are prized in Mall pet shops that support the misery trade. Nellie had just about every medical problem you can imagine the worst of it being malnutrition, flea infestation, heartworm compounded with an upper respiratory infection and hacking cough.

Jackie's mug shot taken at the shelter where she was dumped when she was no longer of value for puppy production.
In the safety of our rescue environment Nellie recognized that there was hope for her future. With all available strength she made a decision to put up a good fight and survive. She saw the potential for a great new life. I've never seen such spirit and patience in a dog as Nellie worked through the treatments of her medical issues.
It was a roller coaster ride for Nellie that took months for her to heal both inside and out. We had to isolate her from the other dogs most of that time. She accepted it all, the apartness, confined rest and relaxation and loads of medication.
The day finally arrived for Nellie when the worst was behind her and we could begin looking for a very special home that would unconditionally love and provide for Nellie. She was ready to move on to a real life.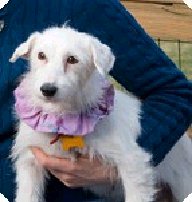 Nellie's prayers were answered when a family of 3 from NYC came to call on her. They had a houseful of cats and there was a big question in the air as to how the animals would adapt to each other. Meanwhile, Nellie worked the room with her charm acknowledging each family member and making that special connection. Her soon to be new dad Philip swooped her up in his arms holding her some 6 feet off the ground, young Henry laid down on her dog bed for a snuggle and mom Lisa sat in a chair and waited for her last-but-not-least turn to hold her.
Admittedly Aunt Mary had to overcome her snobby country skepticism that a dog can have a great life in NY. Lisa convinced me this could be true and Nellie now resides in NYC where her life is filled with cats not puppies. She is loved beyond belief and a celebrity in her Village neighborhood.
Here is Nellie's new story from her family.
Two years after our dog Daisy died, I began yearning for another dog. I started looking obsessively on Petfinder.com and wanted to adopt a dog that badly needed a loving home. There were many who caught my eye on the way to Nellie, and even some that I inquired about, but I kept coming back to Nellie's sad face and sadder story. After some e-mail correspondence with Aunt Mary, who was initially skeptical of the little dog having a good life in NYC, we went out to meet her, and a few weeks later brought her home.

Nellie & Henry
She settled in so beautifully and quickly. Her first perch was on top of my son Henry's giant stuffed alligator who resides behind our sofa. Strategically, Nellie watched all our goings on. Later she graduated to the sofa itself, and within a few weeks had demonstrated such good manners toward our cats that she moved upstairs for nighttime sleeping. Her only confrontation with her three feline sisters came when, one of them was startled by her, scratched her in the eye, and all three chased her yelping down the stairs. Everything has been peaceable since.
Nellie learned quickly to walk on a leash and is a favorite in the dog run. She adores looking for treats in the gutters of NY. We are still working on her health, as her years of neglect have led to a chronic cough. Her vet says Nellie is her favorite.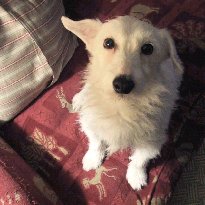 A loved Nellie
She is the most loving creature. Her resilience is evident. After years of minimal care and then being dumped, seriously ill, in a shelter, she still seems to expect that people will be kind to her. We adore her.
Thank you, Aunt Mary, for saving this sweet girl and trusting us with her.
Lisa, Philip & Henry