How could a dog as beautiful as Nicky be so pitiful?
Nicky was found roaming the streets, alone and frightened. He was captured, taken to the overcrowded shelter and put in a crate. His crate was at the bottom of a stack of three high. Nicky was so timid, he would squeeze himself as far back into his crate as possible, hoping to get away from whatever was in the outside world. That created a problem he didn't anticipate.
Our volunteer had gone into that shelter a number of times, looking for dogs to take out and put into foster homes. But she never knew Nicky was there. She even took out the dog in the crate at the top of the stack. Nicky was squashed so far back into his crate, our volunteer didn't know there was a dog in the bottom crate.
Almost on a whim, our volunteer bent down and looked into the crate. There was Nicky. He was so filthy, she wasn't even sure she was looking at a dog!
Instantly there was a look of terror on his face. "Who is this? What's she going to do to me? Am I going to die?"
As you'll see from the pictures below, Nicky is such a beautiful dog. Even with terror on his face he was beautiful. It was Nicky's turn to be freed.
The shelter worker came and opened the door to his crate. Now Nicky broke into a panic. Surely this wasn't good news, he thought.
But as all our volunteers do, she pet him, held him close and talked to him, letting him know that nothing bad was going to happen. Nicky wasn't convinced. He plastered himself to the ground, not wanting to budge. The tiny space he had in his crate was awful, but he had no idea what lay before him.
When he was picked up, all four of his feet shot out in protest. His entire body shook in fear.
Into the car he went, then right to the dog wash at Pup 'n Suds on Bellevue Avenue in Upper Montclair. The dirt streamed from Nicky's body. Slowly his beautiful white coat broke through the dirt. After a final bluing treatment, he was done…and gorgeous. Now for the introduction to his foster home.
Even though he'd been freed, cleaned and loved, Nicky was clinging to the memories of his past — and they weren't fond memories. Now he was being taken to a strange house. What was going to happen to him?
Nicky's foster parents already had a dog of their own. Instead of being taken right into the house, the family dog was brought out to the yard to welcome Nicky. Although the family dog was very warm, open and accepting, Nicky wanted no part of him. He had to be carried into the house. Immediately he ran into one of the bedrooms, where he stayed for almost two days.
Food and water was brought to him. Papers were put down. Nicky wasn't about to move. The door to the bedroom was left open. Nicky was given words of encouragement, but not pressured. Then, on the second day, Nicky's pretty face peered out of the doorway of the bedroom. Slowly, slowly, step by step, Nicky ventured out of the bedroom. Every once in a while a noise or motion would spook him and he'd bolt right back into the bedroom. Within hours, though, he was tentatively exploring the house. Maybe this was good news after all, he reasoned.
Nicky is now in a wonderful home with two other dogs. He's still a total screwball, but he's the joy of the household. He's a healthy 60 pounds, happy and full of life.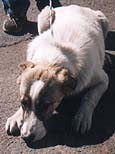 – Pitiful Nicky just minutes after his "release" from the shelter.
He was so scared he couldn't even stand up for almost two days!

Here's Nicky in his new home showing a foster puppy what it was like living in a crate. 
"Hey kid, when I was your age I lived in a crate this small!  How's that for tough?"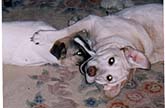 Nicky wrestling with his new pal Milo.

Nicky and Milo chilling out on the bedroom rug.