Queenie the Pit Bull was one of the sweetest dogs we've ever had. Her life started out on a very rough road, as is the case with many shelter dogs.
She had pups before she was one year old. Her pups were taken away and she was chained inside a closet. Her owners then moved, leaving her to die. Fortunately, she was found before that happened. She was covered with sores, very hungry and thirsty, but still alive and smiling.
Because she was a pit bull, though, animal control workers came to get her with restraining lassos, ropes, etc. All sweet Queenie wanted to do was lick the faces of the people who came to her rescue.
It seemed to Queenie that she had been given her freedom. Actually she was on the way to the shelter and a very unsure future. Pit bulls often have a difficult time finding homes because of their (most often incorrect) reputation.
But luck was with her. She was taken to a shelter full of loving, concerned workers. As long as there was a chance of Queenie being adopted, the workers would protect her and work with her.
She spent several months at the shelter, watching the other dogs finding loving homes. There was no home for Queenie.
The shelter Director saw what a dream Queenie was. She shouldn't be in the shelter. She should be in a home, sharing her love. So the Director called us.
One of our volunteers picked up Queenie and brought her to her new foster home. Again, luck was with Queenie. The people fostering her had a special place in their hearts for pit bulls. And Queenie soon had a special place in her heart for her foster parents.
Week after week Queenie went to adoptions with her foster Mom. Week after week people walked past beautiful Queenie and took the other dogs home.
Finally, it was Queenie's turn. While she was sitting at an adoption day on her best behavior, a man came in looking for a dog. He saw Queenie and it was doggie love at first site. The look in his eyes told Queenie's foster Mom that she had found a home.
The man asked some questions about Queenie. He took her for a walk. Things were looking good for our little girl!
He came back and made it very clear that he had to have Queenie. SHE GOT A HOME!!!
Queenie's foster Mom went through the usual questions asked of a potential adopter – questions about his home, his lifestyle, his experience with dogs. But it was clear that this was the man for Queenie. He couldn't stop looking at her, petting her, hugging her.
Queenie is now living — very happily — with her new owner. She sleeps with him, she jogs with him and she's totally in love with him, just as he is with her!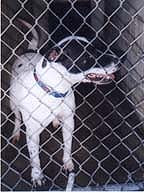 – Queenie patiently waits in the shelter for someone to claim her

Look at that smiling face!  Queenie is brought out of her shelter run to meet a potential new owner –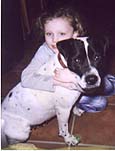 Step back kid, I'm a terrible pit bull!  Aw shucks, maybe not…

   "Good grief, I thought my nursing days were over!"  (While Queenie was in her foster home, two more foster puppies were brought into the house.  They were just a few weeks old, had no mother and were hungry.  They looked around the room, saw Queenie and said "There's lunch!"  Even though Queenie wasn't their Mom and hadn't nursed puppies for almost 9 months, the puppies latched on to her, hoping for the best.  Don't you love the expression on her face!)