Paul,
As you can see, Sadie is all set to celebrate Mary's birthday and has her birthday hat and lei already to go!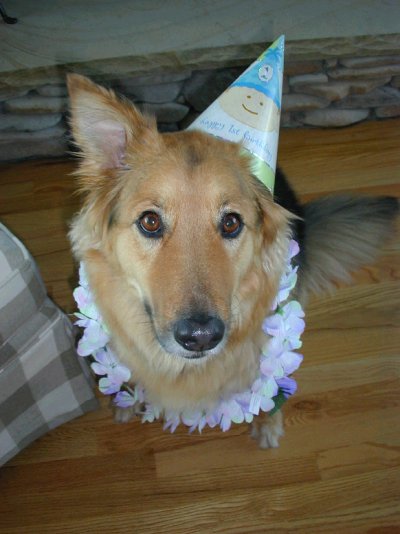 She is such a wonderful dog and we are so lucky to have met Mary and had a chance to open our home and our hearts to such a loving and wonderful dog.
Everywhere Sadie goes she makes friends and she has her own fan club at the local businesses where we live out here. She is the favorite dog of our local bagel store owner, gas station attendant, Fed-Ex and UPS man ~ she is such a lovebug and now she has a new role as big sister dog to our little 2-1/2 month old baby son Ryan. She is enjoying the job so far, but once he starts crawling, walking and grabbing at her, we aren't so sure… I think however that the food he'll be dropping on the floor will more than make up for any potential abuse he sends her way.
Lauren, Robb, Ryan and Sadie Thompson