Aunt Mary,
I wanted to give you an update on Sally.
My girlfriend (now wife) and I adopted Sally from you just over four years ago and we have never stopped loving her. She has been everything we would ever want in pet and more. We consider her family.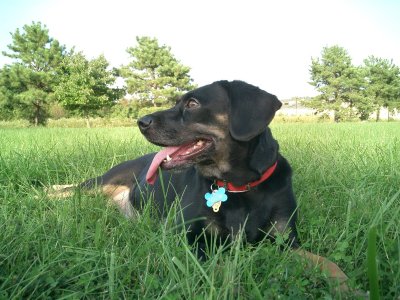 Just as your ad had mentioned when we first found her on your website, she just loves to cuddle up with you on the couch in your bed and, if you let her, she has been known to give hundreds — literally hundreds — of kisses right on the lips. There is no love like a big, sloppy, wet dog kiss on the lips.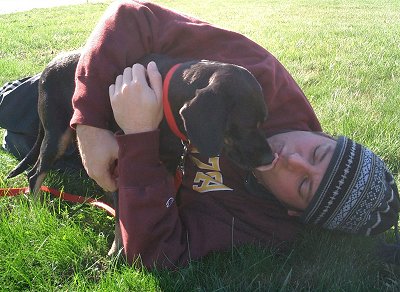 All of our neighbors know and love Sally and she loves them back. If you want a friend for life, you need only to give Sally a scratch behind the ear or a pat on the belly. And there is nothing like the pound of her tail against a couch, a cabinet, or anything she may be standing next to — it's wicked powerful.
However, the greatest thing about Sally has been one change. When we first adopted her, when you looked at her eyes, you could only see the brown and black of her iris and pupils — as if her eyes were always partially shut. Now, however, when she looks around, you can clearly see the whites of her eyes. We take that as a sign that she's happy and enjoying her life with us.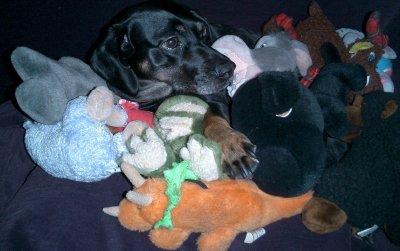 After two years we felt comfortable enough to adopt Sally a sister — and so we did. Maya is Sally's "Mini Me," but don't be fooled by her size. As much as they look alike, Maya is quite a handful. With Sally's help, she has calmed down quite a bit since we first adopted her; and Maya helps her by keeping her company — especially when we are both a school.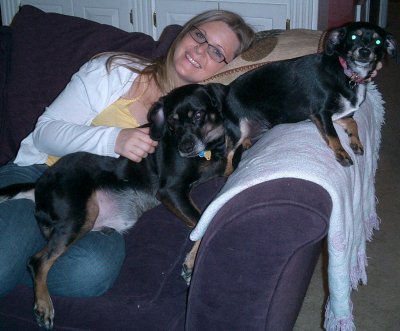 All in all, we are one, very happy family. Thank you for helping us achieve that.