Hi Aunt Mary,
I am not sure if you remember us. This one of your rescues, "Scottie Biscotti".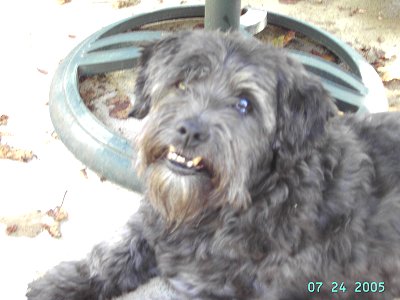 We adopted him about 4 years ago. We took excellent care of him. But yesterday we had to put him down. I am heartbroken. He was diagnosed with Cushing's disease last year. He also had cataracts and arthritis.
On Tuesday I woke up at 3am with him whimpering and his back legs wouldn't move. I felt so helpless. I gave him some of his pain meds but nothing seemed to help. I brought him to his Dr. that morning. He was in so much pain. They put him on a morphine patch. We went to see him 3x in 2 days and I knew when he looked at me what I had to do. The vet told me his prognosis was not good. I told my kids that part of being a pet owner was taking good loving care of him and also knowing when he wasn't happy and in pain. It was the hardest decision I ever made. I was so sure at that moment but now I find myself beyond tears and guilt. Could I have waited? Should I have gone to the Neurosurgeon in NYC? So many questions.
Scottie was my friend and I hope I gave him the joy he gave me. My boys(12yr twins) showed me what men they are. Together they dug Scottie's grave in tears but made sure it was worthy for him. My son made a cross out of wood and my other made a rock border so no one would step on his grave.
Let me tell you about his life. He was spunky! We have a 13yr old border collie/shepard mix, Mac, and let me tell you Scottie kept him on his toes! I truly believe Mac would be not be here if it was not for Scottie. It was like he brought the old guy back to life. Mac is heartbroken even though he treated Scottie like an annoying brother but they loved each other. He attacked the vacuum cleaner. He chased dogs 5x his size. He hated when I hugged anyone else but him. Scottie was a jealous, loving, grumpy, protective, garbage lover, wonderful little guy. I will forever miss him. Thank you Aunt Mary. You brought my family much happiness.
Thank You, Jan Reid
Dear Jan,
I'm so deeply sorry for the loss of Scottie Biscotti and the pain in your heart for the loss of your fur-child. We know how deeply and totally you loved this little guy. I'll relive his story with you as we share in your grief:
We have NEVER forgotten Scottie. He was one of most memorable dogs we've ever had. I don't usually look for or take in small dogs but someone in town had made a request to keep an eye out for a little guy and up pops Scottie in a Brooklyn shelter.
Scottie was in a horrendous state of neglect. Abandoned to the city streets he was starved and his coat was greasy filth, overgrown and matted into knots. The couple responsible for me bringing Scottie into rescue in the first place changed their minds overnight about wanting him. They lacked the heart and vision to see this little diamond in the rough.
Our first job was to find out who was under all that nasty fur! Scottie went off to the groomer and returned looking like a naked new-born baby bird! He was embarrassed about his looks but we're certain he must have felt better already.
Next stop was the vet. All I remember about this was that he needed meds but he was not about to be intimidated into taking them. To this day Paul and I laugh with the memory of putting him on the kitchen table and trying to open his little mouth. He'd do one of two things with his paws dug firmly into the table standing his ground – he'd clamp his mouth tightly shut so you couldn't pry his jaws apart and/or he'd snap. Paul resorted to wearing a pair of leather workout gloves. Hilarious to see two adults and a 13 pound dogs wrestling on the kitchen table! And then by accident we discovered the magic of penne paste in VODKA sauce!!! Scottie LOVED this dish! Pill time became effortless when we learned we had this leverage over him – we'd simply slide his med into the tube pasta and dripping with tasty sauce we'd feed him his meds.
Adoption time came and because of Scottie's small size we got many calls on him. But you Jan stood out from all the rest. We were so doubtful that this relationship was going to work because Scottie was an "older" dog of undetermined age and background, you had young children and a senior dog, and Scottie had a quirky temperament.
Jan you totally surprised and impressed us!!! with your commitment and love of this little dog! You had a positive attitude about Scottie the moment you laid eyes upon him and never once did I hear a single word of fear, doubt or concern about him fitting in to your home and life! With unwavering confidence you walked out of our house with Scottie in your arms. We were the skeptics – watching you drive off we were certain that Scottie would return!. But over the years that followed all we ever received were positive expressions of appreciation and love for this silly little mutt.
We applaud your attitude, your kindness and your devotion to Scottie. We're 100% certain that Scottie had the very best years of his life lived with you and your family. We also applaud your young children because they were not afraid in the least that Scottie would nip them and they listened to and followed our instructions on how to play with him so he wouldn't lose this once in a lifetime chance at a perfect life. Scottie won the lottery of love when you scooped him up and claimed his as 'yours' and committed to be his forever guardian.
On behalf of Scottie and all the homeless dogs out there on the streets, in shelters and in rescue, THANK YOU Jan and family for doing the right things for animals, for taking a 'chance' and, for being the exceptional family that you are. I'm posting our exchange on our website, (success stories) as a tribute to your family and Scottie Biscotti.
With sympathy and gratitude,
Aunt Mary and Uncle Paul