Last fall we were scheduled to get a group of dogs from a southern kill shelter. At the last minute we were asked if we could take 'just one more' as there was a tiny space on the truck just her size (and luck!) They called her Gena. We said sure and this is the pair of ears that showed up: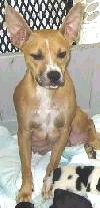 It was apparent she was recently a nursing mother. We learned that she'd been tied to a dumpster behind the shelter with no pups in sight. In addition she had an injured hind leg. You could see by the way she navigated on three legs that this was not a recent injury.
We took her to our brilliant, skilled surgeon at the Blairstown Animal Hospital and discovered through the X-rays that she had a shattered hip that would require TWO intense operations to restructure the injury. Salsa was on the table for hours!
First the sharp jagged edges of the shattered bone had to be filed and the other bone shards removed. (poor girl, this sharp, jagged bone had been poking at her muscle for a long time). With no 'ball' to set into the hip socket the filed bones would now be attached to muscle and secure in place. This was really the easy part as there was much more to come for this brave little 25 pound dog.
The next 6 weeks meant restricted movement in order to allow the muscle to accept the bone. A plastic cone was also attached around the Salsa's neck to keep her from touching the leg. I honestly don't know who had the tougher time, us (and furniture) getting battered in the legs by the plastic neck collar and having to keep an exuberant friendly people loving dog CALM or the dog, healing from a major surgery and having restricted movement for all those weeks!
We started calling her Salsa for her sassy, optimistic, happy-go-lucky attitude. Salsa has a personality that can light up a room! The leg miraculously healed and Salsa now had FOUR legs to dance on – obviously a new experience for her. She regained full use of her leg thanks to the gifted hands of her surgeon, Dr. Leal.
It wasn't over yet though. Salsa now had to be SPAYED! Yes, she had to go through a THIRD surgical procedure. For females the surgery is invasive so they need to be kept quiet for 10 days until the stitches can be removed – and yes – the cone had to go back on! More cone in the leg bruising for us were in store!
Now it was time to get on with the adoption process and find Salsa a loving home of her own. Again, like magic the perfect couple showed up to claim her. Here they are the day they met and following is an update on her progress as SHEBA.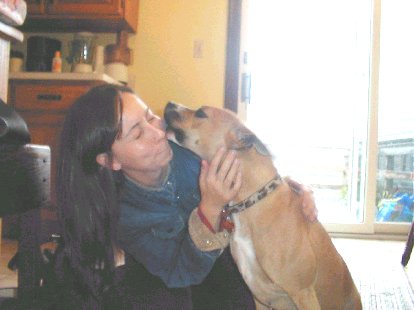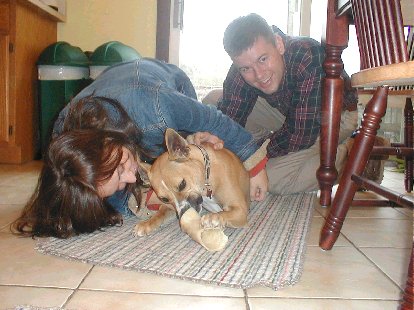 Aunt Mary and Uncle Paul,
Salsa's doing great! We re-named her Sheba and she got used to her new name fast. We named her that because she is basically the Queen of our house. She is quite spoiled – lots of toys, a great dog walker who comes for her every day, a whole house to claim as her domain, lots of peanut butter on her bones, etc. She loves to take long walks with us in the reservation nearby but she's also content to relax and cuddle with us. In fact, she squeezes out a spot on our bed every night. Her leg is doing great – no more limp and it's getting gradually stronger by the day.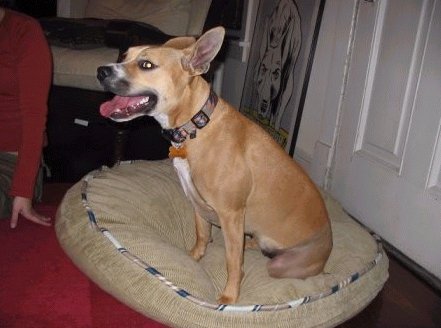 We couldn't be happier with any dog. She is our first dog and she has been even better than we could have hoped. We keep asking ourselves why anyone would buy a dog when there are so many wonderful dogs out there, like Sheba, to be adopted. The whole process was so easy, from the moment we saw her on Petfinder, to meeting her at your house, to taking her home soon after that. You did an excellent job in pairing us up with her and we can't thank you enough.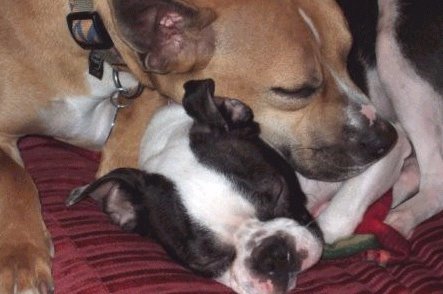 You'll see that she now has a great boyfriend
– our friends' Boston Terrier.