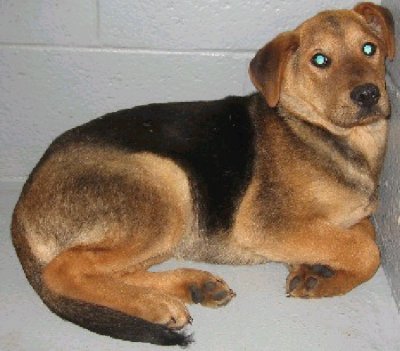 Snapple
In Jan '07 Snapple was a fearful pup that was dumped with her brother Ryan in rural Virginia.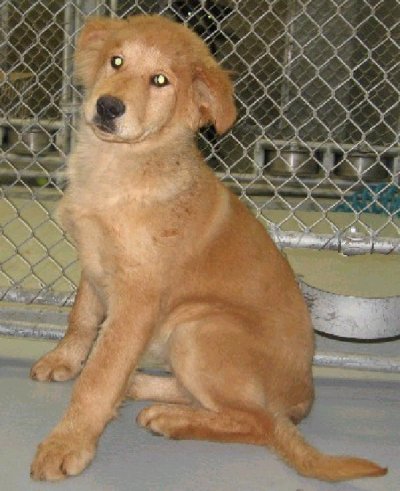 Ryan her brother malnourished with a skin condition
The pair was suspicious of people (with good reason) and hung around at arms length from the people who owned the property where they were dumped. There was an empty doghouse on the property that Snapple and Ryan ventured into and would not come out of and the owner took the opportunity to frighten them further by nailing a board across the entrance and calling animal control. The AC officer was also very helpful in making use of a catch-pole to drag the frightened pups out of the far reaches of the dog house.
Given that these babies were now totally petrified of humans there was little hope they'd make it out of the shelter alive. We were asked by a shelter volunteer if we'd take both and work with them. We said YES of course.
As with all rescues we worked with the pups to get them ready for adoption and then looked for very special homes that would make a commitment to continue with the rescue and rehabilitation of these dogs. Both dogs, I'm happy to reports got outstanding homes and great lives. Snapple went first as she matured a little faster than the skeptical Ryan.
Here is Snapple's adopter Amanda's update a few months later, Aug '07
Aunt Mary, I'm sorry it has taken me so long, but I am finally sending you some pictures of lovely Snapple! She is doing awesome! She is actually in Rochester right now with my parents, because I went on vacation with Joe last week and we couldn't bring her.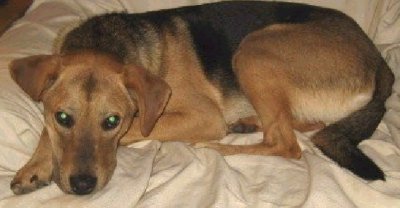 She is healthy and happy, although I think she is going to be a little bummed when I bring her back here and take her away from her boyfriend (my parents German Shepherd). She is such a happy dog, and boy does she love exercise! She is definitely keeping me in shape that is for sure! She still isn't too fond of strangers, and I always feel bad because she is so gorgeous that everyone wants to pet her and she will hide behind me or dodge them and I explain she is simply wary of strangers but I have come to the conclusion she just wants nothing to do with humans! She is so great with any dog though that it doesn't matter at all.
Thank you so much for letting us adopt her, and she has brought so much joy into Joe and my lives. She is truly my best friend and I have missed her so much these past few weeks being away from her I am driving home 3 days earlier than planned because I can't take it!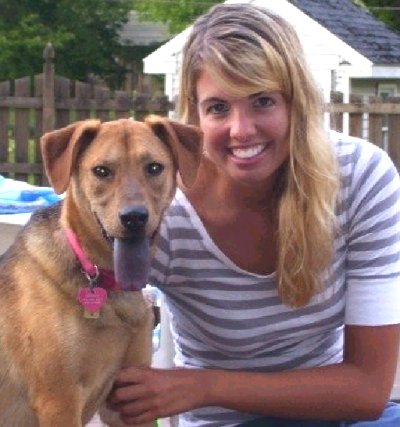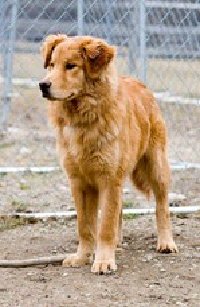 Ryan before he left in June '07 for adoption