Sugar was wandering the streets of East Orange and was picked up by animal control and brought into the pound. A pound is intended to be a seven day holding facility and if unclaimed, the poor dog is put to sleep. Sugar was lucky that the administrator of this pound bent the rules often and kept dogs much longer than allowed.
Sugar was wearing a worn collar that still had a rabies tag attached when she was picked up. When the administrator traced the tag and contacted the owners they denied she was their dog. When they were told the dog was wearing a tag linked to them they suddenly remembered that they had a dog – "OH THAT DOG! We don't want it anymore!!" they said and hung up.
Sugar is a Greyhound/Vizula cross. She had lots of youthful vitality and a passion for running when she entered the pound. When she runs she's poetry in motion – a breathtaking spectacle to behold. But she couldn't run – there was no place to run. Before she found her freedom she would spend nine months in the pound sharing a cell with a rotation of different mates. Some friendly. Some not.
Sugar loved the volunteers that came in to clean the cat cages. These women often brought her into the room to spend some quality time and relieve some of the stress of uncertainty that hangs over a shelter dog's head like a cloud. I have one mental image of Sugar tethered to a cat cage, all 40 pounds of her curled up in a small plastic kitty litter pan. It was that pitiful image that decided for me that I was going to find this dog a home and foster her as soon as I had an opening. I kept telling her to hang in there – I wouldn't give up on her.
People came and went and Sugar was overlooked. She's got orange/black stripes and BIG soft brown eyes. Most people did not find her all that attractive, so Sugar didn't have much of a chance. That's when we were called. One of our volunteers picked her up and put her in a foster home.
Then Andrea came into the picture while surfing shelters listed on Petfinder. Sugar's picture just jumped right out at her and connected with her heart. Since Sugar was living in foster care, her picture was posted under our organization's listing. Andrea made a call from Connecticut, got in the car with her husband and made the drive to NJ to pick up Sugar. The last image I have of Sugar is one of her giving her foster parents and doggie pals a long good-bye look out the back window of Andrea's station wagon on her way to live on a farm with a couple of cats as friends.
Andrea took Sugar to the vet and had her tested for heartworm – something the pound wasn't able to do because of a lack of funding. Sugar tested positive. Just when Sugar thought her luck had turned around, she's struck with potentially deadly heartworm. Did Andrea return her to us?
NO. She loves Sugar and claimed her for better or worse and honored her commitment to see Sugar through the treatments without a guarantee of a successful outcome. Well as you can see in Sugar's album – she came through it all thanks to the love of all who helped her along the way!

 – Here's poor Sugar in a typical fearful, submissive pose as she
waits outside the shelter anticipating her fate.  She had no idea what was about to happen to her.
She probably feared the worst.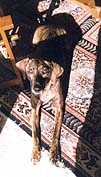 Here she is just a short while after she found a permanent home. 
 Quite a change, eh?  A beautiful photo of a beautiful dog!-

 – A happy ending and a happy dog!