Aunt Mary's Doghouse took in two puppies from a shelter in Ohio naming them Sunrise and Sunset. This is the story of Sunset, the male pup now known as Zim.
Seven years ago, we adopted our Sheltie mix, Sasha, from a shelter, and she has been an absolute delight. In April the family made the decision to repeat the experience and we began searching on Petfinders.com for a second dog.
We did not have a preference as far as age or breed, our only criteria was that the new dog be friendly and could get along with another dog. After a few weeks of searching, we saw a dog that we thought might be right for us. We contacted the shelter listed and filled out the adoption application. The next day we received a phone call and began the telephone interview process. The representative of that shelter concluded that while we sounded like responsible pet owners we did not have a fence and our application was flat out denied. While we were disappointed to say the least but we kept searching.
A few weeks later, we found another dog. Again, we filled out the application, and again we received the phone call for an interview and again, we were denied because we had no fence.
At this point, we decided to call various shelters to get information regarding fence requirements before filling out an application. Repeatedly we were told that a fence was required. We were baffled. Lots of dogs live in all kinds of households and not everyone has a fence! Week after week, we kept seeing the same dogs, including the three that we had hoped to give a home to were sitting in a cage because of a stupid "no fence" check box on an application.
We had just about given up when we saw a pup named Sunny listed on Aunttmarysdoghouse.com. We all agreed that this would be our last attempt at adopting a dog. After hearing that Sunny was still available we were almost afraid to even bring up the 'no fence".
We were elated when Aunt Mary responded that a fence was not a requirement, and then she quickly got the heart of the matter by asking, "What would Sunny's life would be like if he came to live with us?"
I emailed Aunt Mary back with the information along with three references and quickly received the call to come and meet Sunny. We scheduled a meeting and this is who we brought home! Our new baby Sunny!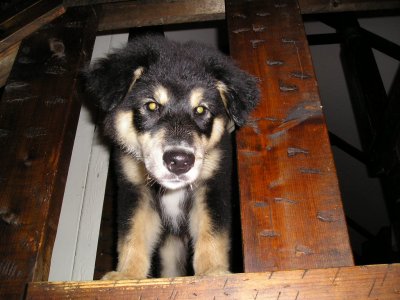 We can't thank Aunt Mary enough for allowing Sunny to come home with us. She recognized that a fence does not guarantee a good loving home for a dog. Sunny will begin his puppy preschool in a few weeks, but he already knows how to sit and speak. He has been a delight and Sasha is enjoying her new companion playing with him as if she were a puppy all over again. Here they are in "The Doghouse" together.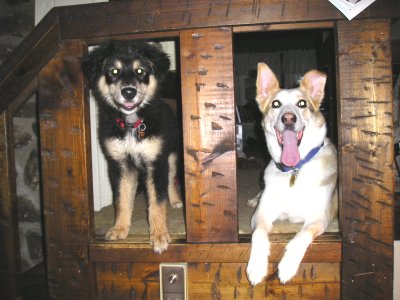 Thank you Aunt Mary!
Paul, Shirley, Anya, and Sasha