Suzie the baby Beagle came into our rescue at the age of ten months. As this young age she had already experienced 5 different living arrangements. Born in a puppy-mill she was sold off to a mall pet store in time for the spring rush on puppy sales. From there she was destined to be purchased as a Mother's Day 'surprise gift' from husband to wife in a household without children.
Suzie was an unwelcome, unwanted gift and fights over the 'untrained dog' became the norm. Word got around that a beagle pup needed a home and Suzie once again got a new address
In her next home, left unattended in the fenced yard, Suzie managed to find a weak spot in the fence and wiggled out of the backyard. She ran into the street and was struck by a car resulting in a damaged leg that required costly surgery. Word spread again in a new direction that Suzie needed immediate financial assistance to cover the cost of surgery and stop her pain.
Through strong networking efforts via the Rescue grapevine this is how Suzie came to Aunt Mary's Doghouse and into the gifted hands of Dr. Leal at the Blairstown Animal Hospital where her leg was 'magically' restored like fine bone china. The repair required two surgeries and a plea went out to Friends of Suzie to help with the cost. Her friends didn't let her down!
Two months of total rest was the Rx prescription and trying to keep a young beagle quiet became the daily challenge. During this time Suzie was posted on www.auntmarysdoghouse.com and her perfectly matched new family-to-be came to see and claim her as their own.
Here is what her mom and dad, Dyan and Bob have to say about finding Suzie via Petfinder.com and adopting Suzie — now proudly known as Bailey:


Her name was Suzie when we adopted her at 11 months. We fell in love with her right away — broken leg and all!. We think lampshades are cute especially on a dog and this is what Suzie was wearing the day we met — a surgical collar that looked like a lampshade and a cast on her leg. Enthusiastically she hopped right to us on three legs trying her best to kiss us with a lampshade swinging around on her little Beagle head.
Suzie was welcomed into our family by all of us, including our extended family and friends. We changed her name to Bailey and she quickly learned her new name.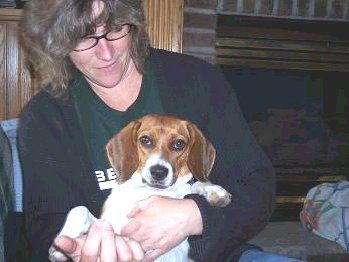 Although she had already been through quite enough she need to go through a third surgery for her mandatory spaying (Aunt Mary says the last thing we need in this world is more unwanted puppies!) We took her back to Blairstown Animal Hospital, where she was fondly remembered. Suzie responded with tail wagging happiness upon seeing her veterinary friends that fixed her leg.
We love to take long walks and Bailey totally enjoys these outings with us (her leg got stronger from the exercise and healed as good as new) but as you can see she enjoys her naps more!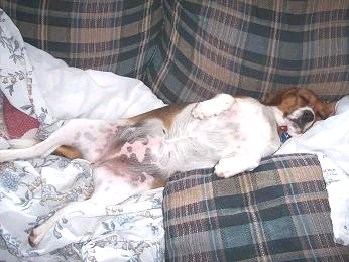 Zzzzzzzzzz
Everyday we love her more and more. We can barely walk past her without giving her a pat on the head or a kiss. She is one of the happiest dogs I know. She loves to play and has a real weak spot for squeak toys. She loves to be with us and follows us from room to room to be near us. She has brought much happiness to our family.
Bailey went for obedience training at American Canine Academy in Hawthorne. She graduated June 14, 2006 (we say) "with honors" (she came in second place out of 6 dogs in a competition held before the graduation ceremony). She lost the "sit stay" competition when a squeak toy was used to break the tie between Bailey and another dog (no fair- things that squeak are her weakness). We are very proud of her and she has adjusted well into our home where she is loved beyond belief!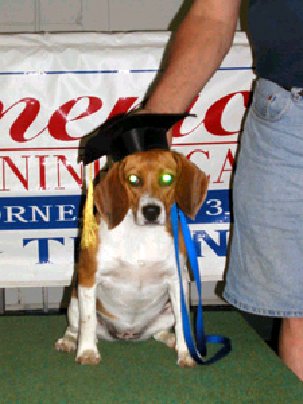 We're SO proud!