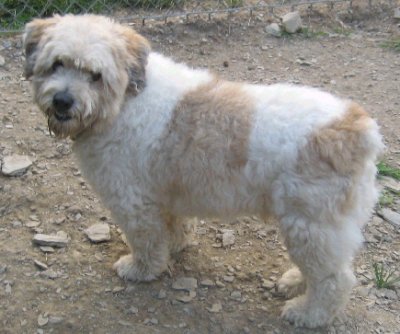 Teddy came to us via a neighbor. His owner had died and the relatives temporarily took the dog but didn't want him and they treated him poorly. Our neighbor heard about Teddy's problem and took him in as a foster. Because of his small size he had a lot of calls but as is typical with people searching for that special someone, some folks didn't keep their appointments, simply didn't click with Teddy or left reconsidering having a dog at all.
As for Teddy he too was being very picky about the people that came to meet him. The day Lauren, Paul and their boys showed up Teddy clearly demonstrated that this family was to his liking and he was ready to move out of the Doghouse and into family life. Here's an update on Teddy from his new family.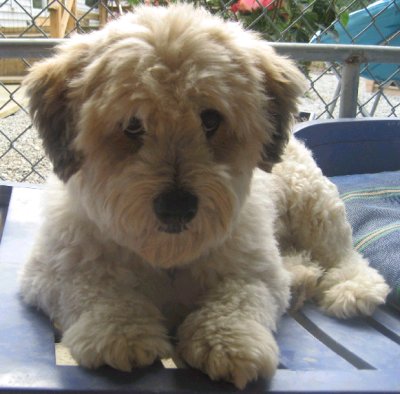 Just wanted to update you on Teddy. We are all having a wonderful time with him. He has really become part of our family. He is very loving and a true pal. He greets each and every one of use when we return home with true excitement and love. Although his first few days with us he constantly followed only me around, he has decided it is ok to hang with the rest of us.
Teddy loves the boys and tries to spend time equally with them – he knows how to work the room!. At night, he usually tucks them in and sleeps with them until he hears Paul my husband and I coming up to bed. At that point he spends the night with us. He loves taking walks. The boys walk him a lot but my favorite time is my walk with him in the evening. Since the weather has been so nice, we spend a lot of time outside in our yard. Although it can't compare with your beautiful setting, we have had a lot of fun with Teddy and Mac (our other dog) playing catch. They have become real buds. Even our cat and he are good pals.
Teddy and Paul are just adorable together. Teddy has stolen his heart. It is not unusual for Paul to come home with a new toy or a new treat for just him. He loves to jump-up on our swing while Paul is reading out there and just snuggle. We licensed him in our town and he got to meet our vet. Our vet thinks he is great. Christopher did such a good job describing our adjustment that he offered him a part time job helping around his office. Chris is thrilled. Our vet is only a few blocks from our house. Chris loves animals as you observed. He spoke very highly of you and how wonderful you are with all of you dogs.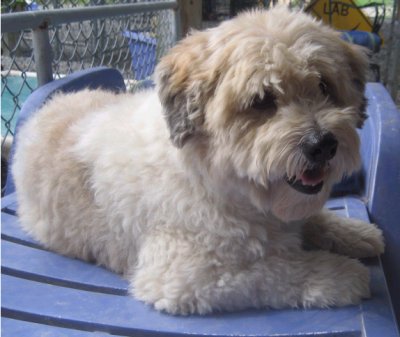 Thank you again for letting us adopt Teddy. We can't imagine our lives without him.