To All of Helen's (Nurse Ratchett's) Fan Club – past/present/future:


People from all directions check-in with us to see who is in the Doghouse now and who has left. Helen was a special favorite to many as she resided with us for more than a year. We pulled her out of the Newark shelter on Halloween 2004 and made that date her birthday. It seemed appropriate because of her masked beauty. We gave her the nickname of Nurse Ratchett after the ward nurse in the book/movie One Flew Over the Coo Coos Nest. Helen ran the kennel in much the same way as Ratchett with intense scrutiny keeping everything under orderly control. (left: Helen's 1st day as Yum-Yum in her new home.)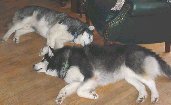 So for those of you who knew Helen or are just now being introduced we're delighted to report that Helen (now Yum-Yum) has after a very long, patient wait found a loving country home of her own with Amy & Frank. This husky breed loving couple had recently lost one of their cherished pets and went in search of a special someone to fill the gap in their and their other dog's Junes life. Helen went off quite willingly for a PJ Party at their home and stayed on. She even got a cozy bed in their room! Here they are together, the happy napping couple.

Some things her new parents have to say: At first Yum-Yum was reluctant about the stairs going up and around to the bedroom. But now-when she is tired at night, she goes up to bed, whether anyone else is ready or not! Her favorite food is chicken (but it can't be ground, it has to be pieces) The toy you (Aunt Mary) brought for her (on her visit) is known as "Bo-Bo" and is her favorite. Her second favorite is a floppy stuffed lobster named "Flopster". She throws them both up in the air. Helen Yum-Yum enjoying her new bed and toys.
Here's a funny "Yumyism": We took her hiking and she saw some deer. She started yodeling in complete sentences! Yaw wow!!! Law Saw WAW!!!! All the hikers came running out of the woods. They thought somebody was getting murdered. And here we come, Frank CARRYING this yodeling husky in his arms saying, "we're OK – she just saw some deer". He had to pick her up off the ground because she was doing monkey flips in the air.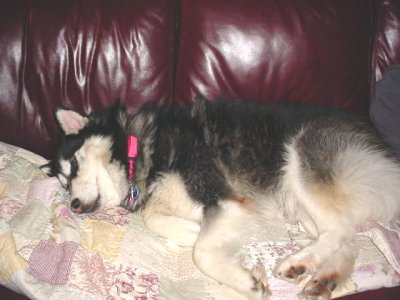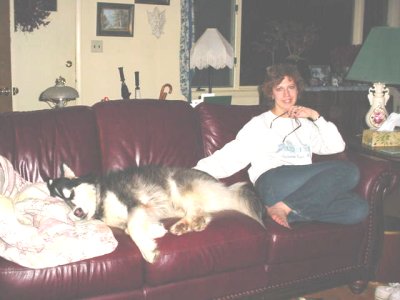 We're just so happy she is ours and that she is just living with us. Thank you again, for our newest family member. Amy & Frank
PS: Husky trivia – Yum Yum is a snap-tail wooly with party eye and snow nose!